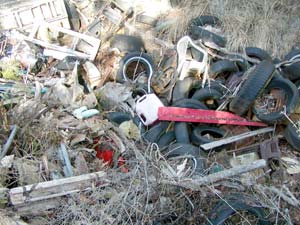 Small portion of debris removed from area sinkholes.
The District has completed a three-year project to improve water quality in the District's springs by removing debris from sinkholes and areas with high aquifer permeability.
Over the three-year period, 90.77 tons of debris were removed from 18 sinkholes and other karst features in Pasco, Hernando and Citrus counties. Some of the items removed from the sinkholes included shopping carts, newspaper stands, mattresses, small appliances, a bowling ball, a gun safe and a handgun. The tonnage does not include a vehicle that was recovered from one of the sites by the Hernando County Sheriff's Department.
According to Chris Zajac, an environmental scientist in the Resource Projects Department who oversaw the three-year cleanup, there was actually a silver lining to finding the massive amounts of debris.
"I was happy to see that most of the debris we found seemed to be dumped there a number of years ago and doesn't seem to be a recent problem," said Zajac. "I'd like to think that in the future we'll find less illegal dumping because people have a better understanding of the fact that their actions affect the water resources."
The Governing Board budgeted $200,000 for the project over a four-year period from 2005 through 2008; however, the total cost of the project came in at under $90,000.
"We're very proud that the project was able to come in well under budget," said Veronica Craw, environmental manager. "We were able to save thousands of taxpayer dollars by purchasing an $800 drop camera and equipment to perform reconnaissance on the sinkholes rather than having to send divers down to investigate."
The project is part of the District's Springs Cleanup Initiative. There are more than 100 springs in the District. The majority of these springs are clustered around the District's five first-magnitude springs systems, which include Weeki Wachee, Homosassa, Chassahowitzka, Kings Bay and Rainbow River.
District data indicates significant declines in water quality in these springs and environmental changes in some of the spring-run systems. This project targeted recharge areas that consist of direct sinkhole connections to the aquifer and areas of high permeability that are prime locations for illegal dumping.
The District began by identifying 105 sites for investigation. The District contracted Dive-Tech International, Inc., to survey and remove debris from submerged portions of sinkholes. The District's Operations Department was responsible for hauling away and properly disposing of the debris.
In an effort to prevent future illegal dumping, the District is working with local governments and private landowners to fence off the sinkhole areas.