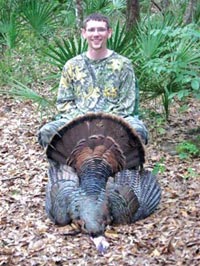 Jarrod Bonnick says being able to participate in the hunt helped his rehabilitation.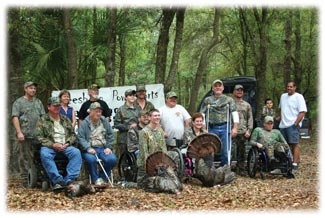 Hunters and volunteers celebrate the end of a successful day of hunting.
A partnership between the District and the Outdoors Without Limits group provided a "soulful boost" to a former employee.
Jarrod Bonnick worked as an environmental scientist in the District's Bartow Service Office before joining the U.S. Army Corps of Engineers in 2005.
In October 2007, Bonnick accepted a six-month transfer to southern Iraq where he would oversee reconstruction projects for the Corps.
"Most people thought I was crazy to volunteer to go into a war zone, but I wanted to do my part to support my country and to also help the people of Iraq," said Bonnick. "It was an opportunity to be a part of something much larger than myself, and it was aimed at reconstructing Iraq and helping its people."
Shortly after Bonnick arrived in Iraq, he and another Corps employee were accompanied by two private security officers on an inspection of several water treatment plants and one roadway project that were under construction. Their vehicle was hit by a roadside bomb. One of the private security officers was killed, while Bonnick and the other two occupants were seriously injured.
After being evacuated by helicopter, Bonnick spent about 10 weeks at Walter Reed Army Medical Center in Washington, D.C., before being released to finish his rehabilitation and recovery at home. A few weeks later, his former coworker, Paul Elliott, senior land management specialist, called to see if he would be able to come to Florida for a turkey hunt.
Bonnick didn't think he could get out in the woods, but Elliott told him it was a special hunt for people with disabilities and mobility wouldn't be an issue. Bonnick was hesitant but agreed to let Elliott and his friends sign him up for the hunt.
"Boy, am I glad that I didn't say no," said Bonnick. "That weekend of turkey hunting and being out in the woods was the best thing I've experienced since the accident."
"I was finally able to get out in the woods and enjoy something that I used to enjoy previously," said Bonnick. "It was the soulful boost that I needed!"
The hunt was one of many organized by Outdoors Without Limits, an organization dedicated to helping the disabled enjoy the great outdoors.
Mike Blanton, who organizes the Florida chapters, works with the District's Land Resources Department to hold several similar events each year on District land.
"The people who volunteered as guides, cooks, organizers and so on were all just tremendous," said Bonnick. "Seeing all these dedicated people and how much they cared truly made me proud to have served our country over in Iraq."
To learn more about future Outdoors Without Limits events throughout the state and the nation, visit OutdoorsWithoutLimits.org .
To learn more about the District's involvement with disabled hunts, please contact Will Miller, land use and protection manager, 1-800-423-1476, ext. 4472.