Reclaimed water is highly treated wastewater and can be used for irrigation and other uses to extend our water supplies.
Our Role
The District works with local utilities and water users to maximize the beneficial use of reclaimed water as an alternative water supply. The use of reclaimed water helps meet current and future water supply needs in the region and is a vital component of the District's Regional Water Supply Plan. The District has committed to a long-term goal to beneficially reuse 75 percent of all flows from wastewater treatment plants. To meet this goal, the District provides funding through our Cooperative Funding Initiative program to help communities develop reclaimed water systems. During the past 30 years, the District has committed more than $417 million to water reuse projects in west-central Florida.
The District has been recognized as a leader in the promotion and development of reclaimed water.
Benefits
There are many benefits to using reclaimed water such as reducing potable water use, decreasing fertilizer application, reducing discharge into rivers and bays from wastewater plants, and most importantly, ensuring a sustainable and cost-effective water supply.
Wastewater to Reclaimed Water Process
Treating wastewater to provide high quality reclaimed water begins with using screens and other processes to remove sand and debris before it enters the sedimentation tank. In this tank, large solids are removed prior to microorganisms and organic materials breaking down. Next, clarifiers assist to clear the water color before it enters the disinfection chamber where chlorine is typically used to kill remaining microorganisms before the treated water leaves the wastewater plant for distribution.
Reuse facilities are constantly monitored to ensure that only high-quality reclaimed water is distributed. This water is clear and essentially pathogen-free.
Reuse Availability Maps
Reclaimed water is supplied by 69 reuse systems within the District. Use the new Reclaimed Water Map Viewer to learn more about reclaimed water lines and facilities in the District. (Note: Map viewer is unavailable from 10 p.m. to 6 a.m. for maintenance.)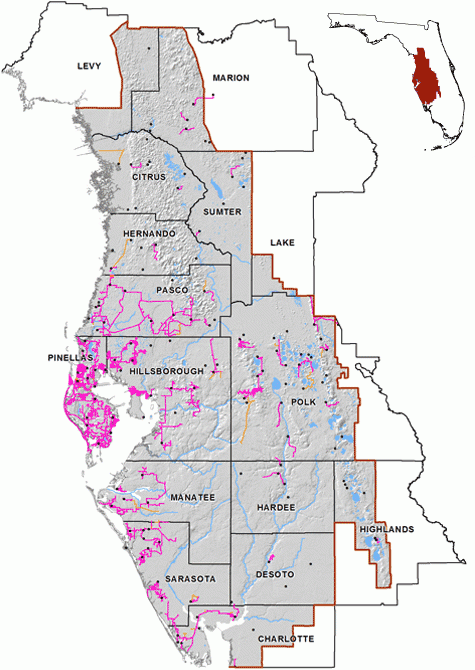 Reclaimed Water Videos
Tampa Electric's Regional Reclaimed Water Project
To accommodate a planned expansion at the Polk Power Station, Tampa Electric needed more water. The innovative solution? A reclaimed water-treatment project that has dramatic environmental benefits.
More Information