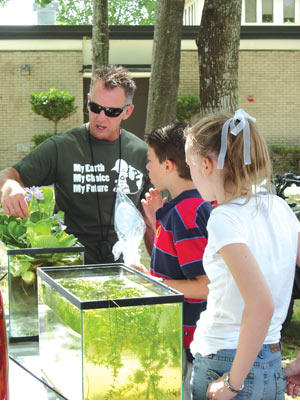 Lonnie Taylor, aquatic plant management crew leader, educated students about invasive aquatic plants.
More than 70 students between the ages of 9 and 18 converged upon the District's "Green Scene" during the annual "Take Our Daughters and Sons to Work Day."
The "Green Scene," an interactive area featuring environmental educational exhibits and demonstrations by 13 departments, was the place to be in the morning. At the end of the day, the kids voted for their favorite demonstration, which received the "Kids Choice Award." This year the most popular booth was the Aquatic Plant Management Section's demonstration about invasive plants.
Students learned what makes a plant "invasive," how to identify some of the invasive species and how the District gets rid of the invasive plants without harming beneficial native plants. Then the students had to take what they learned from the display and put it into practice.
"As part of a timed race, the kids had to put on protective equipment and then 'treat' as many invasive plants as they could by knocking the invasive plants (milk jugs with pictures of invasive plants) off a picnic table using a gas-powered sprayer (very large squirt gun)," said Brian Nelson, aquatic plant manager. "Milk jugs with pictures of native plants were mixed in and points were deducted if the native species were sprayed and knocked off the picnic table."
The annual event gives young people the opportunity to spend the day at the District headquarters and service offices learning about District careers. This year the event focused on the Governor's Climate Change Initiative and how it relates to the District's mission, as well as "earth-friendly" actions students can take to protect the environment.