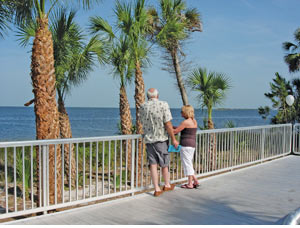 Residents enjoy the park's new boardwalk.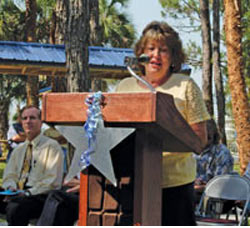 Judy Whitehead, Governing Board member, tells how she has enjoyed going to the park all her life.
The District and Hernando County celebrated the completion of the expansion and renovation of Bayport Park with a grand reopening ceremony in May.
Park visitors are now able to enjoy additional parking, an upgraded boat ramp, shelters, pavilion, a scenic boardwalk along the coastline, nature trails and new restrooms.
Bayport Park was originally developed in the 1950s with boat launch facilities and a fishing pier. One of the most popular parks in Hernando County, the site is notable because it was used as a battery during the Civil War, and debris from this event is still visible on the property.
Judy Whitehead, Governing Board member and Coastal Rivers Basin Board chair ex officio, spoke at the ceremony.
"As a Hernando County resident, I have many fond memories of this park," said Whitehead. "My mother and I used to come here early on Sunday mornings so we could get a nice spot to read our books."
As part of an agreement to acquire the 869-acre tract, the District and the county determined the county would use up to ten acres of the property to expand the historic park. The District's Governing Board and Coastal Rivers Basin Board would also allow the county to redirect the $1.4 million it planned to contribute toward acquisition costs for the park expansion.
"This partnership between the District and the county to build this park dates back to 1994," said Colleen Kruk, senior land use specialist. "In 1994, the two entered into an agreement to share the costs of acquiring selected parcels within the Weekiwachee Riverine System to protect and preserve coastal areas and other water resources. This led to the expansion of this park and more recreation opportunities for the public."
The District and the county have received a lot of positive feedback from the public about the project.
"We believe the goal of renovating the park, while still maintaining its historic charm and minimizing disturbances to the coastline areas, has been a success," said Kruk.