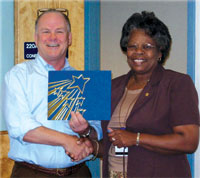 District Executive Director Dave Moore proudly presents his own department staff member, Frances Sesler, with the Shining Star award.
Frances Sesler, senior administrative assistant and District veteran of 33 years, received the Shining Star award for May for her commitment to the community.
Sesler, a licensed ordained evangelist, is very active in the Hernando County religious community. Currently, she serves as church secretary, superintendent of Sunday Bible school, assistant praise and worship leader and she is on the Board of Directors at her church, Good Samaritan Christian Fellowship Church. Sesler also is involved with several other activities at her church and at True Holiness of Jesus Christ.
In addition, Sesler is the secretary for the Fellowship Alliance of Independent Ministries (FAIM), an organization that consists of various independent churches that attend biannual religious retreats. She is also secretary for FAIM's youth convention event.
Aside from her religious involvement, Sesler is committed to the American Cancer Society's Relay for Life event fundraiser by serving as the District's committee chair for three years. She assists with organizing raffles, yard sales, brown bag lunches and barbecues to raise money for the event.
Sesler and her family spend many hours preparing food, including her famous homemade sweet potato pies, for Relay for Life barbecue fundraisers. Sesler makes about 20 pies per event and the committee hosts several barbecues per year. It is because of the generosity of Sesler, her family and team members that the District earned a bronze award for fundraising at this year's event.
Sesler was nominated by fellow coworker Rebecca Geiger.
"As someone who has served as a Relay for Life team captain, I know how much time and effort goes into the job," said Geiger. "I thought Frances and our District team did a great job and raised a lot of money for a worthwhile cause."