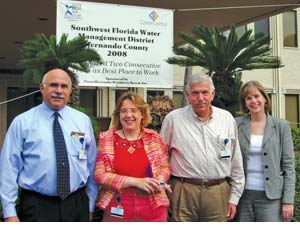 Gene Schiller, deputy executive director; Elaine Kuligofski, human resources director; Steve Uebel, human resources manager; and Pam Baldwin, senior human resources generalist, are proud of the District's distinction.
The Southwest Florida Water Management District was recently honored, for the second year in a row, by the Pasco-Hernando Jobs and Education Partnership Regional Board, Inc., as one of the best places to work in Hernando County.
"It is a privilege for the District to be honored two years in a row," said Pam Baldwin, SPHR, District senior human resources generalist. "I appreciate the Jobs and Education Partnership recognizing the District's commitment to its employees and highlighting the significant investment it makes to equip and engage its work force. It truly is a great place to work."
The District was named one of the best places to work in Hernando County among employers with more than 150 employees. There were three categories, which included small businesses with less than 50 employees, medium businesses with 51 to 150 employees and large businesses with more than 150 employees, for both Pasco and Hernando counties.
Employers were judged on diversity, turnover, compensation and training opportunities, as well as benefits and growth percentages.
The purpose of the award program is to provide vital information to local companies about the practices used to attract and retain employees. Employers that participated in the nomination process will receive a report providing the results of the survey and how they compare to other companies.
Winners were presented with an award and banner to proudly display at their workplace.