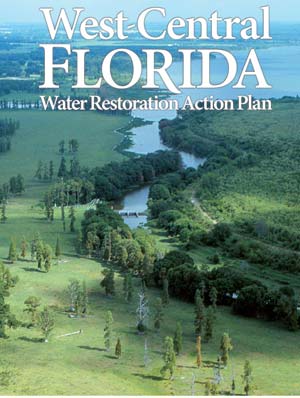 The Florida Legislature included $15 million in its 2008–09 state budget for the District's West-Central Florida Water Restoration Action Plan (WRAP), which will help restore water quality and natural systems and create sustainable water supplies in the Southern Water Use Caution Area (SWUCA).
"In this incredibly tight budget year, we are extremely grateful that the WRAP was funded, which will aid in the District's efforts to recover the Southern Water Use Caution Area," said David Moore, District executive director.
The WRAP is an implementation plan for the components of the SWUCA Recovery Strategy adopted by the District to address water resource concerns in the southern eight counties of the region. Decades of groundwater overpumping in the SWUCA has resulted in lowered aquifer levels, leading to saltwater intrusion, reduced flows in the Peace River, lowered lake levels and water quality degradation. The WRAP lays out the measures to implement the recovery strategy and quantifies the money needed, making it easier for the District to obtain funding from state and federal sources.
The components of the WRAP include:
The Central West Coast Surface Water Enhancement Initiative, which includes three identified alternative water supply/environmental restoration projects.
The Facilitating Agricultural Resource Management Systems (FARMS) Program, a cost-share reimbursement program designed to implement agricultural best management practices that provide water quality and/or water supply benefits.
The Ridge Lakes Restoration Initiative, which will treat stormwater runoff in select Highlands and Polk county lakes.
The Upper Peace River Watershed Restoration Initiative, which includes the Lake Hancock, Upper Peace River and Peace Creek Canal projects.
The Central Florida Water Resource Development project, which will develop alternative water supplies to meet the long-term needs of Polk County and the surrounding area.
Over the next 17 years, the WRAP will cost approximately $1.8 billion. Funding from state and federal sources will help offset 40 million gallons per day of ground water, reduce phosphorus by 50 to 80 percent in the Lake Wales Ridge through stormwater treatment, supply up to 19.5 billion gallons of new water storage capacity and restore surface water storage, flows and water quality in the upper Peace River watershed.
"I would personally like to thank Governor Crist, who included the WRAP in his budget; our primary legislative sponsors, Senator JD Alexander, Representative Bill Galvano and Representative Mike Grant; and all of the legislators throughout our District who have helped make WRAP funding a reality," said Neil Combee, District Governing Board chair.
The District has a number of partners in the WRAP, including the Peace River/Manasota Regional Water Supply Authority, Polk County, the U.S. Congress, the Florida Department of Agriculture & Consumer Services, other local governments and the agricultural community. These regional partnerships are critical to meeting future water supply demands and protecting the region's natural resources.