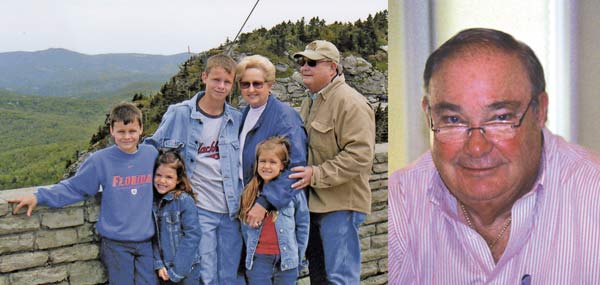 Above: Jerry and Pam Rice on vacation with their grandchildren.
Right: Rice joined the District's Governing Board in March 2003.
The District's new Governing Board chair knew early in life that his future lay in the citrus industry. Born in Avon Park and raised in Polk County, Talmadge G. "Jerry" Rice began his career at an early age.
"I started working when I was very young. My dad worked in the citrus groves. My mom worked in the packinghouse. I did a little bit of everything."
In high school, Jerry juggled several jobs, including working at the University of Florida Citrus Experiment Station, a service station and delivering papers on Sunday.
"My dad used to tell me, 'Work hard and keep your nose clean, you may turn out to be something.'"
Jerry knew his path by the ninth grade — go to the University of Florida and study citrus. He followed that path, earning a bachelor of science degree in citrus and a master of science degree in agricultural economics.
After college, Jerry went to work with Pasco Packing Company, which later became Lykes Pasco, Inc. His new job had him traveling throughout the northeastern United States selling orange juice to supermarket chains, food service distributors and institutions. With the exception of a short time in the building business, Jerry worked his way up through the company, expanding his knowledge of all facets of the business.
Jerry served as president and chief operating officer of Lykes Pasco, Inc., and subsequently as vice president of government and industry relations for Lykes Bros., Inc. when he retired in 1998. During his time at Lykes, he was appointed to the Florida Citrus Commission in 1984 and continued to serve through three governors until 1995. The Commission is the governing board of the Florida Department of Citrus.
One constant throughout his career has been his focus on people.
"I've always been very people-oriented, very employee-oriented. Employees are the most valuable asset that any company or organization has."
His focus on people extends beyond the work site to his personal life. The most important person in his life is his wife, Pam. They met when they were in college. Jerry has a fraternity brother to thank for setting him up on a blind date.
"She was really blind," Jerry joked.
Pam was the city girl from St. Petersburg dating the country boy from Imperial Polk County who frequently punctuated his sentences with "reckon this" and "reckon that." The city girl and the country boy clicked, celebrating 43 years of marriage this year.
Jerry's eyes light up when he talks about his family. He and Pam have two sons. Ed is an attorney in Tampa whose wife, Liz, is a Hillsborough County judge. They have two daughters, Alex and Erin. His other son, Kelly, lives in Webster. He and his wife, Kathy, who is a physical therapist, own several physical therapy outpatient clinics. He also is a partner with Jerry on a ranch and real estate ventures. Kelly and Kathy have two sons, Shelton and Winston.
"So I have two city granddaughters and two country grandsons," said Jerry with a smile.
Since retiring from Lykes Bros. in 1998, Jerry has stayed busy. Living in Dade City, he is currently self-employed in real estate sales and marketing, consulting and cattle ranching. Jerry is a member of the Greater Lake County Association of Realtors and Sumter County Chamber of Commerce. He is a past president of the Florida Citrus Processors Association, past president of the National Juice Products Association, former board member of the Gulf Citrus Growers Association and former member of the Agricultural Technical Advisory Committee of the U.S. Department of Agriculture Foreign Agricultural Service.
Jerry was appointed to the District Governing Board in March 2003. He began serving as Board treasurer in May 2004 and was elected vice chair in May 2005. In May 2006 he was elected Board chair.
"There were some folks in the agricultural community that asked if I wanted to be on the Board. I had some dealings with people who work with the District. I was always on the other side of the fence."
He was excited about the prospect of having a positive impact on the state's water resources and has enjoyed being on the Board, but admits that the volunteer position is a lot more work that he initially thought it would be. Before making the time commitment, he was told it "will only be about two days a month." Quite an understatement!
"First, I had to get a dictionary of acronyms," he laughed. "Coming in, I understood only a small part of what the District does. The most challenging thing has been keeping up with the accumulation of the vast amount of District issues and activities."
The District's budget book is more than 600 pages, and each month Governing Board members get homework — meeting books of about 350 pages.
"People don't realize how much is involved in what we do here."
The volunteer work has kept Jerry quite busy. He is especially pleased with the respect that Board members show each other, valuing a diversity of opinions and promoting healthy discussions on complex water resource issues.
His most pleasant surprise has been the District staff.
"I've found a tremendously capable and dedicated staff. I'm very proud of what they do for this organization. This is a great organization and this staff is its greatest asset."
Jerry said his goal as chair is to uphold the legacy of the chairs that have preceded him and keep the District moving forward in meeting the many water resource challenges of west-central Florida.
"We've had some great people as chairs since I've been here — Ronnie Duncan, Tom Dabney, Watson Haynes, Heidi McCree. Those are all top-notch people."
Based on his history, Jerry will tackle the chore with the same vigor and determination evidenced throughout his career as he's accomplished each of his goals.
"Sometimes people tell me, 'You sure are lucky,'" Jerry laughs. "I've found that the harder you work, the luckier you get."