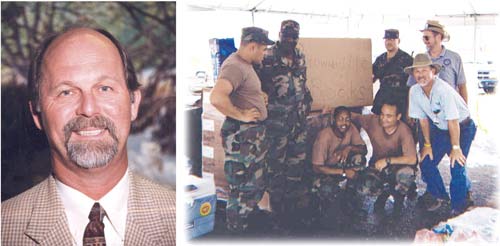 Rand Baldwin and Jimmy Brooks (right), senior community affairs coordinators, pose with members of the National Guard while working together at a Hurricane Charley relief center.
Rand Baldwin is a people person.
He spends a great deal of his time, both in and out of the office, working with people in the community.
Baldwin has worked at the District for over 30 years and has been in his current position since 1985.
He graduated from the University of Florida and initially planned to major in psychology because of his interest in people and his curiosity about what makes them "tick." However, as his college career progressed, he chose to pursue a degree in geography.
During Baldwin's time at UF, he established a strong rapport with several of his professors. It was because of their recommendations that he was offered his first job out of college with the Department of Natural Resources.
Shortly after, Baldwin began his career at the District in the Resource Regulation Department and moved on to supervising field technicians in the Tampa Service Office. Eventually, he moved into what was the first District service representative position.
Currently, Baldwin is a senior community affairs coordinator for the District, serving as the liaison between the District and Pasco, Pinellas and Hillsborough counties, the 33 local governments within these counties as well as state and federal elected officials. He interacts daily with state and local elected officials and the general public.
"I enjoy the diversity that comes with each day and resolving issues that occur in my position," said Baldwin. "It is a challenge and an opportunity to assist others."
Over the years, Baldwin has developed significant relationships within the community. He has worked with some of the elected officials for so long that he is often referred to as "one of the guys."
"The relationships I've developed in my position have been very beneficial to the District," says Baldwin. "I'm pleased that I've been able to gain the respect and trust of my peers."
Several opportunities stand out in Baldwin's career at the District, including being a member of the environmental committee during Tampa's bid for the 2012 Summer Olympics, mentoring students and volunteering for hurricane assistance.
During the 2004 hurricane season, Baldwin volunteered for Hurricane Charley relief in the small community of Brownville. He and Jimmy Brooks, also a District community affairs coordinator, managed a distribution center for 10 days and had the opportunity to work closely with the National Guard and various state agencies to assist the victims of the hurricane.
"It was so hectic for the 10 consecutive, 15-hour days I spent in Brownville that I didn't realize what it meant to me until we had completed our assignment," said Baldwin. "It was truly a gratifying experience to be able to assist others who had lost everything."
Outside of work, Baldwin participates in community activities that benefit organizations such as the Special Olympics and the Make-A-Wish Foundation. He also participates in a program called "Teddy Bear Runs," where he and other members visit local hospitals and abuse shelters to provide teddy bears and smiles for those in need.
Baldwin's natural ability to relate to people has developed important relationships that continue to influence his life and career. Wherever he goes, his friendly nature and upbeat personality always open doors to interesting people and places.