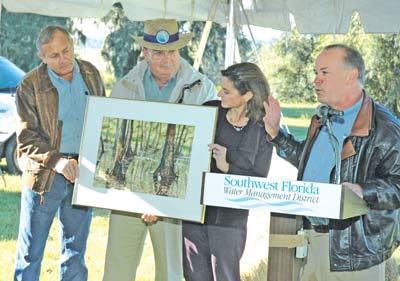 Left to right: Fritz Musselmann, land resources director; Jerry Rice, Governing Board chair; Heidi McCree, past Governing Board chair; and David Moore, executive director, at a ceremony for the Little Everglades Ranch.
Fritz Musselmann has played a major role in protecting hundreds of thousands of acres of land in his 31 years with the District, prompting a state senator to commend him for being a leader in land protection and management.
In a letter sent to the District's Governing Board, Senator Paula Dockery singled out the land resources director for his commitment to acquiring land to preserve and protect our region's water resources.
"The District is fortunate to have an individual on staff with such extensive knowledge and experience in land management and acquisition," wrote Dockery. "Thus, it is my distinct honor to commend Fritz Musselmann."
Dockery represents the 15th District, which includes parts of Hernando, Lake, Osceola, Polk and Sumter counties, and is chair of the Senate's Committee on Environmental Preservation.
Dockery cited several key acquisitions made by the District since Musselmann has worked at the District, including the recent joint acquisition of the Overstreet property in Polk County. The 5,118-acre parcel is located in the Green Swamp.
As the lead agency, District staff negotiated a price of approximately $53,700,000. Under the agreement, Polk County would contribute $5 million, with the FDEP and District splitting the remaining costs.
"His commitment to this specific land purchase has allowed it to move quickly through the necessary approvals from Polk County, your Board and the Florida Cabinet, which has made the creation of a premier state park for our area a reality," wrote Dockery.
In addition to Musselmann's commitment to seeing the Overstreet purchase through, Dockery also cited other land acquisition accomplishments during Musselmann's tenure at the District.
Since 1981, the District has acquired 311,000 acres of land, as well as jointly acquiring 20,029 acres of land with the state and 30,570 acres of land with local governments.