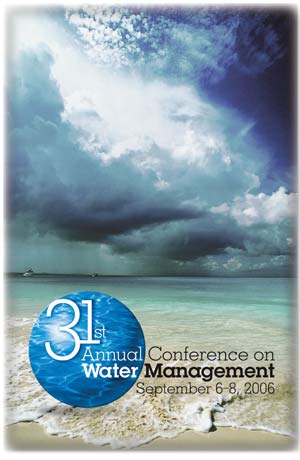 Water managers, state and local government officials, representatives from academia and the business community, and other interested people are invited to attend Florida's 31st Annual Conference on Water Management, September 6-8 at the Westin Innisbrook Golf Resort in Tarpon Springs.
The annual conference, which is co-sponsored by the state's five water management districts and the Florida Department of Environmental Protection, provides a forum for attendees to share information on emerging technologies, discuss policy and social issues, and address economic challenges in managing Florida's water resources.
This year the focus is a weather phenomenon called "Atlantic multi-decadal oscillation", the severe storm effects associated with it and the "new reality" of water management in Florida. The keynote speaker, Max Mayfield, director of the National Hurricane Center, will also address this topic.
Since the beginning of 2004, eight hurricanes have had major impacts on Florida, and it appears that decades of severe storm events lie ahead. The recent storms have caused serious damage to our state's infrastructure and homes, and affected the lives of residents. Other effects include the destruction of environmental restoration projects; degradation of water quality in rivers, lakes and estuaries; and the impacts to the financial and staff resources of water management districts and the Florida Department of Environmental Protection, who are required to respond to the emergencies generated by the storms.
The conference also offers two half-day workshops on low-impact development and the considerations for development, implementation and expansion of reuse systems. Field studies to the Lake Maggiore and the Kapok Park restoration sites are also available.