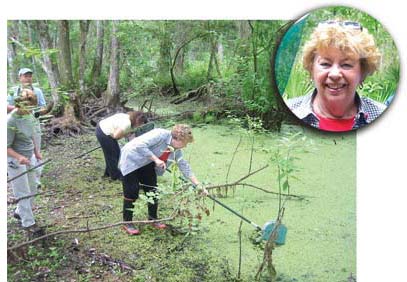 Sallie Parks, Governing Board member, collects samples from Brooker Creek.
Governing Board member Sallie Parks is a "hands-on" person when it comes to water resources.
Parks' dedication to the environment was clear during a Watershed Leadership Program held at the Brooker Creek Preserve.
The education section of the Pinellas County Environmental Lands Division developed the Watershed Leadership Program to help decision-makers and elected officials expand their understanding of water issues that affect the region, making them better prepared to make good decisions that can directly or indirectly impact the watershed.
"We should never take water for granted, said Parks. "It is a life-sustaining commodity and the Watershed Management Workshop puts in perspective that resources must be safeguarded to protect our water supply. This hands-on workshop brings it home for our entire region."
The program, which included classroom sessions, field work and an interactive case study of a mock District permitting review hearing, supports Pinellas County's watershed management initiative and the District's watershed education goals by educating potential cooperators and decision-makers about watershed management issues to result in more sustainable practices of the water resources in the watershed.
When the class ventured outdoors, Parks was one of the first people to roll up her sleeves and get into it.
"Ms. Parks happily sifted through the duckweed in Brooker Creek to find insects, fish and other bioindicators with us," said Dorian Morgan, a District senior communications coordinator who also attended the workshop. "Her enthusiasm for protecting Florida's water resources is evident and inspiring."
The two-day workshop, which was co-sponsored by the District's Pinellas-Anclote River Basin Board, discussed what a watershed is and addressed some of the issues facing urban watersheds, including threats to maintaining healthy watersheds, urban runoff watershed law, biodiversity and human impacts on Florida's water resources.
The Watershed Leadership Program complements the Pinellas County Environmental Lands Division's pilot watershed education workshops for homeowner associations, builders, developers, private land-use planners and other Tampa Bay residents.
Another Watershed Leadership Program will be held August 17-18 at Weedon Island. This workshop will focus on many of the same topics covered at the Brooker Creek workshop, in addition to a guided watershed canoe trip. For more information about the workshop, please contact Phyllis Kolianos at (727) 452-6506 or by email at pkoliano@pinellascounty.org.