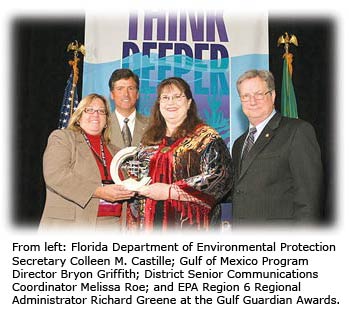 A national program sponsored by the U.S. Environmental Protection Agency (EPA) calls the District's Water Conservation Hotel and Motel Program (Water C.H.A.M.P.) a "Gulf Guardian."
The District's water conservation program took second place among government programs at the Gulf Guardian Awards in Corpus Christi, Texas. Water C.H.A.M.P. began in September 2002 as a two-year pilot program in the Pinellas-Anclote River Basin of the Southwest Florida Water Management District. The free water education program includes a linens and towels reuse program. The basin includes Pinellas County and part of Pasco County. The program is now available in all 16 counties within the District.
The Gulf Guardian Awards are presented by the Gulf of Mexico Program to recognize the businesses, community groups, individuals and agencies that are taking positive steps to keep the Gulf healthy, beautiful and productive. The EPA formed the Gulf of Mexico Program in 1988 as a nonregulatory, inclusive partnership to provide a broad geographic focus on the major environmental issues in the Gulf. The mission of the program is "to facilitate collaborative actions to protect, maintain and restore the health and productivity of the Gulf of Mexico in ways consistent with the economic well-being of the region." Award entries were received from Alabama, Florida, Louisiana, Mississippi and Texas.