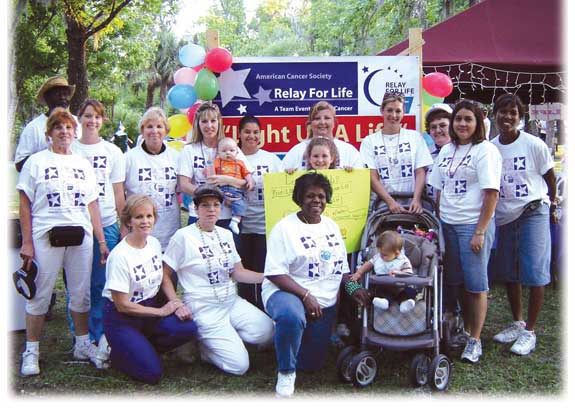 The District's team, seen here, raised more than $5,000 for the American Cancer Society during the Brooksville Relay for Life.
District staff, family and friends recently raised more than $5,000 in support of the American Cancer Society's Relay for Life event in Hernando County.
The event at Tom Varn Park in Brooksville began on Friday, April 28, and lasted through the night, ending at noon the following day. Twenty team members represented the District and eight stayed through the night.
"It was great to see so many of our staff supporting this cause," said Frances Sesler, team chair and a senior administrative assistant at the District. "We exceeded our goal, thanks to all the support we received."
Staff raised money for cancer research through a variety of activities leading up to the relay including accepting pledges and hosting barbecues, bake sales and raffles. Team members raised money during the event by selling lemonade and pretzels, as well as various other items.
The Relay for Life event in Brooksville raised a total of more than $86,000 for the American Cancer Society.