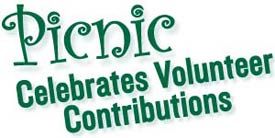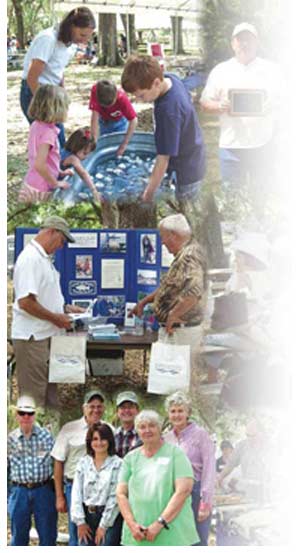 The contribution of hundreds of District volunteers was celebrated in April with a Volunteer Appreciation Day at the Green Swamp West Field Office.
"The District has been around since 1961," said David Moore, District executive director. "We've been working with volunteers since the beginning. They are an important part of what we do."
Approximately 300 volunteers are involved with the District's Land Resources Volunteer Program. More than 850 volunteers are involved with the District's Surface Water Improvement and Management (SWIM) program.
"We all have various reasons why we are motivated to volunteer," said Heidi McCree, District Governing Board chair. "Collectively, we do so much."
Land Resources volunteers, like the Hampton River Riders, play an important role in maintaining the District's many recreational trails and campgrounds, which makes the District's public lands more accessible and enjoyable.
"We're on the property almost every weekend during October through April," said Karen Turbeville, a member of the Hampton River Riders. "When we're there, we're doing everything from clearing trails and picking up garbage to fixing the plumbing."
The Land Resources Volunteer Program tracks volunteers' hourly contributions. Volunteers or organizations are recognized when an established milestone is reached. During the celebration, several volunteers, including Jack Phethean of the South Creek Equestrian Club, were recognized for contributing more than 500 service hours.
"We appreciate the District allowing us to use the property and being stewardship partners," said Phethean. "Volunteering gives us a sense of ownership and we enjoy the property more."
During the awards ceremony, Phethean also told a story about how Dave Morgan, land use specialist, has always been there for the volunteers, including the time their group was doing a cleanup and it rained so hard their trucks got stuck in the mud. Morgan was there until 3 a.m. helping them winch their vehicles out of the mud.
Phethean's story was an introduction to a surprise award the District's Land Resources Department presented Morgan, who is retiring at the end of the summer. The department is naming a volunteer award after Morgan to honor him for his outstanding contribution to the volunteer program.
"Dave Morgan has been instrumental in developing and implementing the Land Resources Volunteer Program," said Fritz Musselmann, Land Resources director. "The award is a small token of our appreciation for his efforts."
The volunteers who work with the District's SWIM program play an important role in restoring Tampa Bay. More than 850 volunteers from 15 different groups were involved with SWIM restoration projects during the past year.
One of the volunteers recognized during the picnic was Joseph Newkirk, a member of Boy Scouts of America Troop 203 of Wesley Chapel. Newkirk's Eagle Scout project involved organizing a volunteer marsh planting to replant seven islands in the Schultz Preserve that were severely damaged by the hurricanes of 2004.
The project was on his scout leader's list of projects that needed to be completed for the Schultz Preserve Restoration, a cooperative project done by SWIM and Hillsborough County. His scout leader happens to be Brandt Henningsen, District senior environmental scientist.
"I chose this project because it sounded interesting, and I'd been a volunteer on other planting projects," said Newkirk.
Newkirk and his volunteers spent more than 170 hours planning and implementing the project. One thing he didn't plan on was that Hurricane Dennis would make its way across the region the day of his volunteer planting. Despite the rough weather, Newkirk and 19 volunteers installed 7,400 plugs of marsh grass scattered over the seven islands, and it only took them 3 1/2 hours!
"The feeder bands started kicking up again right after we finished," said Newkirk.
"The SWIM program wouldn't be what it is today without volunteers and the cooperation we have with other area government agencies and environmental groups," said Henningsen.
He also pointed out that 7 of the 15 volunteer groups the SWIM program recognized at the event are associated with Tampa Bay Watch. In fact, during a Cockroach Bay planting last October, volunteers established a new record for the greatest number of marsh plants (22,500) ever installed at a volunteer event for Tampa Bay.
Martha Garcia, Tampa Bay Watch scientist, agreed with Henningsen. "This is not a competition. We're all working toward the same goal, to instill a sense of pride in this area."
Using volunteers not only builds a sense of stewardship, it also saves the District tens of thousands of dollars each year. During 2005, volunteers who worked with all the District's departments, including Land Resources and SWIM, contributed 16,436 hours. If the average hour is valued at $9 per hour, that adds up to a savings of $147,924.
The Volunteer Appreciation Day featured an awards presentation, exhibits, live music, a picnic lunch and a nature hike. District employees who play music together under the name "The Beagles" donated their time to entertain the volunteers.
For more information about volunteer opportunities with the District's Land Resources Department, please contact Dave Morgan at 1-800-423-1476, ext. 4482. For more information about volunteer opportunities with the District's SWIM program, please contact Brandt Henningsen at (813) 985-7481, ext. 2202.