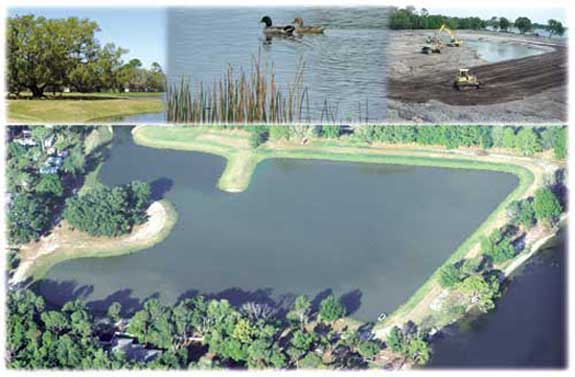 A stormwater treatment pond and diversion structure built adjacent to Lake Mariana will help improve water quality in the Polk County lake.
The water quality at Lake Mariana and the Winter Haven Chain of Lakes will begin to improve, thanks to a stormwater improvement project cooperatively funded by the District and Polk County.
Lake Mariana is a 500-acre lake located within the headwaters of the Winter Haven Chain of Lakes, which is a District Surface Water Improvement and Management (SWIM) priority water body. The SWIM Act, established by Florida Legislature in 1987, requires the five water management districts to maintain a priority list of water bodies of regional or statewide significance. The districts develop plans and programs for the improvement of those water bodies.
"The completed project will help achieve the water quality enhancement goals of the Winter Haven Chain of Lakes SWIM Plan by reducing nutrients to Lake Mariana, as well as downstream SWIM lakes such as Lake Jessie," said Keith Kolasa, senior environmental scientist at the District.
A cooperative study completed by the District and Polk County in 1996 linked the degradation of water quality in Lake Mariana to the increase of urbanization of the surrounding watershed. The study determined that water quality enhancement could be achieved by treating stormwater runoff from the most urbanized portion of the watershed.
"Approximately 60 percent of the urban land uses lie in one drainage basin of the Lake Mariana watershed, and this basin is the most problematic," said Kolasa.
Stormwater runoff historically entered the lake from this basin without any form of treatment. The testing indicated that the runoff contained high concentrations of nutrients such as phosphorus and nitrogen.
To reduce nutrients entering the lake, an 8-acre stormwater treatment pond and diversion structure were constructed on a 10-acre parcel of land purchased by Polk County. The facility is treating runoff from the urbanized basin, which comprises roughly 580 acres.
The completed project site is one of Polk County's newest county parks and provides the public with wildlife viewing and fishing access to Lake Mariana.