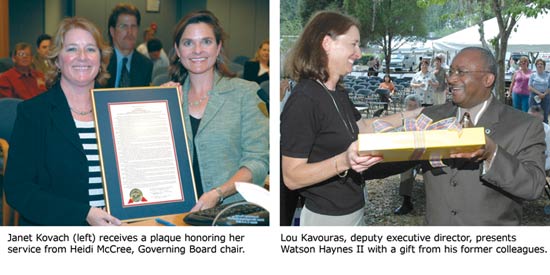 Two former Governing Board members, Watson Haynes II and Janet Kovach, were honored for their service at a barbecue lunch with District staff and afterward at the April Governing Board meeting.
Haynes served on the Board from March 1999 to March 2006. During that time, he served a one-year term as the Governing Board chair, after previously serving terms as the Governing Board's vice chair and treasurer.
"Watson is a dedicated worker for the region and the state," said David Moore, District executive director." His input on the District's finance committee and diversity efforts are some of the highlights."
"When I see a District public service announcement or a billboard, I smile; and when I wear my District shirt or hat, I am proud of what it stands for," said Haynes, who also expressed his gratitude to the District's employees for the work they do.
"Watson jokes about not knowing much about water when he came to the Governing Board," said Heidi McCree, Governing Board chair. "But he must have been a quick study because he taught me so much about water conservation and all the other water resources issues we tackle."
Moore says he will always remember Kovach's volunteer spirit and the support she gave to the staff. She served on the Board from September 2000 to March 2006. During that time, she served two, one-year terms as the Board's secretary.
"Janet has been involved in volunteerism for a long time," said Moore. "We want to thank her for being a tireless volunteer who puts a lot of passion in her work and who has always been supportive of the staff."
Ed Chance, Governing Board member, remembers Kovach as a colleague and friend who was always there for him and the District when he was having health issues. "There were times when I was unable to attend meetings, but Janet was there, representing the District, and I thank her for that."
Governing Board members are appointed by the Governor and serve on a volunteer basis.