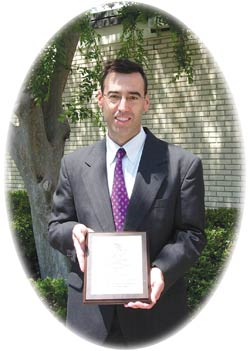 A District employee who has devoted his career to reclaimed water has been recognized for his dedication.
The Florida Water Environment Association (FWEA) recently named Anthony Andrade, District project manager and senior water conservation analyst, the "Water Reuse Person of the Year" when he was presented with the David W. York Reuse Award at the Florida Water Resources annual conference in Orlando. The annual award is given to the person who has been an influential leader in the promotion of reclaimed water within the state.
The award is named after David W. York, Ph.D., P.E., reuse coordinator for the Florida Department of Environmental Protection, because he has been a major influence in the state's reclaimed water industry for more than 25 years. Several years ago, the FWEA committee named the award after Dr. York to honor him while he was still active in the reuse arena.
"I am flattered to receive the David W. York Reuse Award because he is the backbone of Florida's reclaimed water industry and a mentor of mine," said Andrade.
Andrade has been with the District for 8 years, but has been in the water and reclaimed water industry for 15 years. He began working in the building industry before being hired to work in operations at the City of Largo's wastewater treatment plant. Andrade became involved with the city's reclaimed water program when the city expanded its reuse operation before he was hired at the District.
FWEA is the Florida Member Association of the international Water Environment Federation (WEF), a not-for-profit educational and technical organization of 40,000 water quality experts worldwide. The association's goal is to protect Florida's clean water environment by serving, supporting and uniting water quality professionals through public education, professional development, and promotion of sound public policy.
As recipient of the David W. York Reuse Award, Andrade has been nominated for a national WEF award, which will be awarded in September at the national WateReuse Symposium.