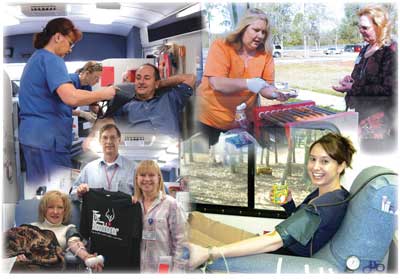 Dozens of District staff donate blood each time the LifeSouth bloodmobile visits the Brooskville office.
I wouldn't be alive if it weren't for blood donors"
That's what a District employee told Susan Wood, LifeSouth donor recruiter, during a recent blood drive at the District's Brooksville Headquarters.
The staff member is a six-year leukemia survivor who needed blood transfusions during her treatment.
"I hear stories like this all the time," said Wood. "When I am at community blood drives, people always come up to me and tell me how their lives were saved because of blood donors. While the blood donors don't always get to hear these stories, they still donate and are the real heroes."
The LifeSouth bloodmobile makes five visits to the Brooksville Headquarters each year. LifeSouth Community Blood Centers is a system of nonprofit, volunteer blood centers supplying more than 110 medical centers in Florida, Alabama and Georgia.
Other community blood banks visit the Bartow and Tampa service offices. Florida Blood Services is the agency that visits Tampa throughout the year. The Bartow Service Office works with BloodNetUSA.
Every time the LifeSouth bloodmobile visits District Headquarters, staff members donate an average of 30 pints. That's a fraction of the amount of blood needed to meet the needs of the three hospitals in Hernando County. LifeSouth needs to collect 275 pints of blood per week to keep an adequate supply on hand for those three hospitals.
The bloodmobile's February visit, which happened to be during a statewide blood shortage, was the first one of the year for District staff. During this visit, 61 employees stopped by the bloodmobile to make a donation. While a few were unable to donate for various reasons, LifeSouth was able to collect 52 pints.
District staff at the Brooksville Headquarters donated 1,146 pints, or just over 143 gallons, between 2001 and 2005. Three lives can be saved from one donation, which is a little less than a pint, because the plasma, platelets and red blood cells can all be used.
Many donors say they like the convenience of being able to donate during lunch or other scheduled breaks.
"I come every time they are here," said Gina Sowders, environmental scientist. "I've been getting calls that they need blood, but it's just easier to do it at work."
"I probably wouldn't go if I had to go somewhere else to donate," said Crystal Buck, accounts payable clerk.
Buck was one of several Finance staff members who talked their co-worker, Reed Clickner, into becoming a first-time donor.
"Peer pressure made me come in today," said Clickner, a fiscal assistant. "Everyone in the office was bugging me."
Several donors said it took a major disaster or emergency to spur them into giving blood.
"I was afraid to do it until September 11," said Gwen Brown, administrative supervisor. "But I said to myself, people need it so just do it.' Now I am at the one-gallon mark."
Blood donors at the District know that donating blood not only helps others, it also benefits them.
If a blood donor needs blood during the year following his or her donation, LifeSouth will cover all non-insured portions of the blood processing fee. The same applies to a donor's family after a donor has made a second donation that same year.
Employees who are unable to donate when the bloodmobile is at the District can also donate at the bloodmobile when it's at any other location, or at the donor center at 12395 Cortez Boulevard in Brooksville.
"Anytime someone from the District donates blood at an alternate location, they just have to mention they work for the District and the agency will get credit," said Wood.
Not everyone is eligible to donate blood. Some of the reasons a person cannot donate include having a low iron count, being recently tattooed, having hepatitis, or if a person has had cancer, heart, kidney, liver or lung disease.
If you would like more information about the guidelines for blood donation, visit the LifeSouth web site at LifeSouth.org or call the Hernando regional office at (352) 596-2002.