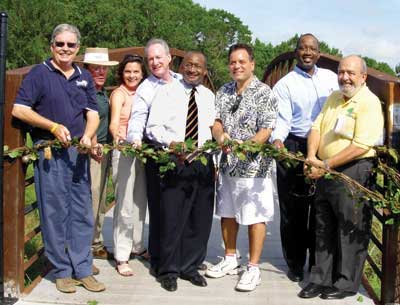 Dozens of Lealman residents joined representatives from the District and Pinellas County in September to celebrate the opening of the first phase of the Joes Creek Greenway to the public. The restoration project is a cooperative effort to restore wildlife habitat and improve water quality in Joes Creek through treatment of stormwater runoff, while providing the community access to the greenway for recreation.
Lealman is a small community in central Pinellas County with a very active community association.
The federal government designated Lealman for revitalization because most of the residents are in the low- to moderate-income range. This project is part of the county's revitalization plan for the area because the creek and surrounding greenway are an important part of the community. In fact, developing the drainage/stormwater basin into a park was a priority for the residents.
"The community had a vision of what the creek could become," said Kenneth Welch, vice chair of the Pinellas County Board of County Commissioners.
"This is a great example of how a project, sparked by community involvement, can come to fruition," said Heidi McCree, Governing Board chair. "It is wonderful to see the results of another cooperative effort between the District and Pinellas County."
The project involved designing and constructing stormwater treatment for runoff entering Joes Creek, the removal of invasive species and the restoration of upland and wetland habitats in and around the stormwater treatment facilities. The project also included educational signage describing the project benefits, a paved path complete with a bridge over the creek and a low-impact parking area.
"The Joes Creek Greenway is a birder's paradise," said Denise Tenuto, District project manager. "Several species of birds, including limpkins, night herons, great white herons, roseate spoonbills and red-shouldered hawks, can now be seen by the public on a regular basis at Joes Creek Greenway."
After the ceremonial vine cutting, residents eagerly walked across the new bridge and along the paved path to get a closer view of the wildlife.
"Seeing what this project means to the people of this community really puts what we do on a Board level into perspective," said Todd Pressman, Governing Board member and co-chair of the Pinellas-Anclote River Basin Board.
The Pinellas County School System plans to use the Joes Creek Greenway for environmental education and to promote environmental stewardship. The county estimates at least 47,800 students will visit the site the first year.
The project was funded by Pinellas County and the District's Pinellas-Anclote River Basin Board and Surface Water Improvement and Management (SWIM) program. The county budgeted $449,000 for the project and received a $266,500 community development block grant for the project. The Basin Board contributed $118,000 and the SWIM program funded $117,000.
The next phase of the project involves expanding the trail and constructing public restrooms, as well as additional bank stabilization, habitat restoration and stormwater treatment.