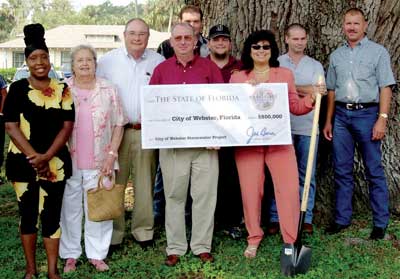 Members of the District's Governing Board and Withlacoochee River Basin Board recently celebrated with the City of Webster's Mayor Stephen Croft and city officials as Senator Paula Dockery presented a $500,000 check to assist with funding of the city's stormwater project.
City officials expect significant development and growth in Webster over the next years. The stormwater project will help develop a watershed management plan that will address flood protection concerns. It also will identify stormwater facilities that may be constructed to protect and maintain the water quality from stormwater runoff.
The state, city and the District's Withlacoochee River Basin Board are cooperatively funding this project.
Mayor Croft expressed his gratitude to his council members, the senator and to the District.
"We are in the midst of some very big projects here in Webster," said Mayor Croft. "They are vital to the life of the city."
Senator Dockery commended the District for creating alternative water supplies for the future. She expressed her excitement to be involved in the plans.
"(The District) … is innovative and really doing things outside the box," said Senator Dockery.
In addition to the check presentation, a groundbreaking ceremony was also held to mark the start of construction.