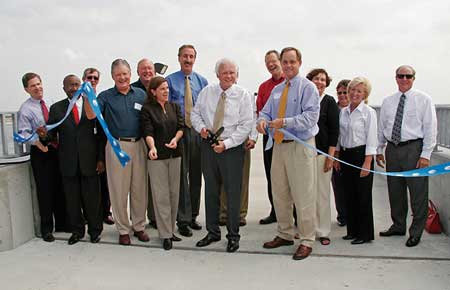 District Governing and Basin Board members and staff joined Tampa Bay Water Oct. 10 in celebrating the completion of the $146 million C.W. "Bill" Young Regional Reservoir.
Congressman C.W. "Bill" Young, for whom the 15-billion gallon reservoir is named, cut the ribbon during the ceremony held on top of the reservoir's berm.
The 1,100-acre reservoir sits on 5,200 acres of land, south of Lithia-Pinecrest Road between Boyette Road and County Road 39. The property was purchased by the District and Tampa Bay Water and will remain in permanent preservation, providing critical habitat in Hillsborough County's wildlife corridor.
Construction of the reservoir was completed in early 2005.
The man-made reservoir has the potential to provide 25 percent of the region's drinking water for more than 6 months. The reservoir will allow Tampa Bay Water to cut down on the amount of water pumped from the Floridan aquifer.