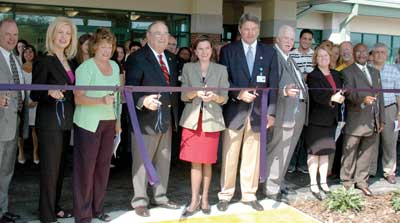 It's official. District employees in Tampa now have a new home.
Board members, staff, architects, contractors and other interested parties gathered September 13 to cut the ribbon on the 26,500-square-foot Tampa Service Office building with an additional 3,000-square-foot storage and utility mezzanine. The Tampa campus improvements also included a new 5,000-square-foot prefabricated metal building for field staff and a new roof for the data center building.
Governing Board Chair Heidi McCree called the new facility a better place to welcome the public and an open, invigorating atmosphere for staff, but she saved her greatest praise for the staff.
"It's important to remember, it's not the place, it's the people. I'm so honored to work with such a great staff."
Executive Director David Moore also praised staff, noting that the buildings were completed within budget despite worldwide steel shortages, concrete shortages and four hurricanes.
"Nothing worthwhile comes easy. Those who saw these buildings through to completion faced a heck of a challenge, and they came through with flying colors."
The new facility, home to about 92 District employees, features ample windows, high ceilings and an open, comfortable working environment. It's also equipped with the latest cost-effective, energy-efficient and water-conserving features.
Walled areas have motion sensor devices to turn lights on and off. Decisions on heating, ventilating and air conditioning were based on energy-efficient systems that also provide a comfortable working environment.
The building also features water conservation both indoors and outdoors. Restrooms use water conservation devices. Florida-friendly landscaping includes an efficient irrigation system as part of an overall Florida-friendly water-wise landscape design. The landscaping area also serves as an educational demonstration site.
The new boardroom provides more space for Board members and the public while also allowing for teleconferencing meetings. The teleconferencing feature saves valuable staff time and provides a convenience for citizens who wish to view Governing Board meetings without having to travel to Brooksville.
The previous prefabricated building, constructed in 1977 with a 25-year life expectancy, had numerous problems that needed repair or replacement, making it more cost-effective to construct a new building rather than renovate the existing one.