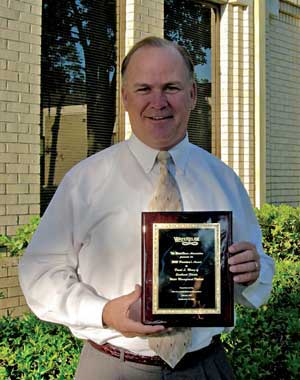 The WateReuse Association recently honored District Executive Director David Moore with the President's Award for his outstanding leadership in the development and advocacy of reclaimed water.
"I was very happy to accept this award on behalf of the District," said Moore. "The award is truly the result of the hard work and dedication of many District employees in shepherding reuse projects that will protect our water resources and meet the water needs of west-central Florida."
The WateReuse Association, and its research arm the WateReuse Foundation, is a nonprofit organization whose mission is to advance the beneficial and efficient use of water resources through education, sound science and technology using reclamation, recycling, reuse and desalination for the benefit of members, the public and the environment.
The District has been a member of the WateReuse Association and the WateReuse Foundation since 2002. Moore has served on the WateReuse Foundation's Board of Directors since 2003 and was recently named vice president.
"Under Mr. Moore's leadership, the District has developed a strong record of promoting the beneficial use of reclaimed water through a combination of regulation, education, partnerships and financial incentives," said Mike Gritzuk, WateReuse Association past president.
The District is very active in the Foundation and is cooperatively funding five ongoing WateReuse research projects. In addition to Moore's participation, District staff serve on the Foundation's Research Advisory Committee and the Association's Indirect Potable Reuse Committee.