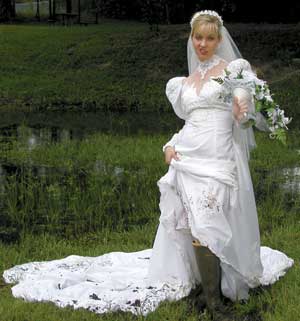 In October, the District launched a comprehensive education program, "Know Where It Flows," to enhance the District's ongoing efforts to improve the water quality in Crystal River/Kings Bay and the surrounding areas.
"Kings Bay and other Citrus County areas have been particularly susceptible to water pollutants in ground water as a result of the area's growth," said Lizanne Garcia, Surface Water Improvement and Management (SWIM) program manager.
The District has taken several steps to protect Kings Bay and improve issues associated with stormwater runoff, vegetation and sinkhole debris, all of which have negatively impacted the bay's water quality.
The program reinforces these efforts and reminds residents that by simply changing their landscape and septic tank maintenance habits, they can help minimize pollution currently affecting the water quality in Kings Bay.
"When people use too much fertilizer on their landscapes, it seeps through the ground, past the root zone of the grass, plants or trees and into the aquifer," said Sylvia Durell, senior communications coordinator. "Eventually it finds its way into the springs and may enter wells. Fertilizer nutrients are only useful to a lawn and landscape when they stay in the root zone; otherwise, it is harmful to the springs and spring-fed rivers."
Septic tanks can be another source of pollution. Septic tanks that are not properly maintained can pollute the ground water. Septic tanks are not often thought of until there is a problem. However, long before the problem is discovered, area waters may already have been negatively affected. Septic tanks should be inspected every two to three years and properly maintained.
The "Know Where It Flows" campaign was developed from recent research conducted by the District that surveyed people who live in the Kings Bay area. The research provided information about the community's general knowledge of groundwater systems, current water quality practices and media preferences.
The campaign will deliver its educational messages through radio, newspaper, direct mail and billboards.
"The messages will remind residents to properly maintain their septic tanks and to not excessively fertilize their lawns, both of which have a significant impact on water quality," said Durell. "They focus on helping people realize that choices made today have a significant impact on our water resources tomorrow," she added.
The District has hired Rivard Reding, former Citrus County Florida Yards & Neighborhoods program coordinator, to take the message to the community, which includes homeowners, plant nurseries, landscape professionals and students.
For more information about the "Know Where It Flows" educational program, Reding can be reached at (352) 476-4941.