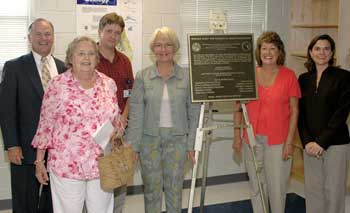 Environmental education took a leap forward in Hernando County with the recent dedication of the Springs Coast Environmental Education Center.
A ceremony and plaque presentation was held recently to honor the partnership among the District, its Coastal Rivers Basin Board and the Hernando County School Board, which contributed to the opening of the center.
"This is one more excellent example of bringing together local governments and the District to promote water resources education," said District Governing Board Chair Heidi McCree.
District Executive Director David Moore recognized the new education center as a major asset to Hernando County.
"This center will contribute to developing the environmental leadership we need in the community," said Moore.
Since the center is located on the Weeki Wachee River, Hernando County students will have the opportunity to learn about the environment firsthand. The facility is surrounded by a variety of wildlife and offers several activities to teach students about water resources, plant and animal habitats and aquatic studies. Students also will be able to participate in constructing nature trails for wildlife observation.
The center has four classrooms, a meeting room, an office and restrooms. Teachers schedule visits to the center as field trips and work with the staff at the educational center to plan activities around their curriculum. Teachers can use the center's facilities or have the staff at the center teach the lesson.
The center has already proven to be popular with teachers.
According to Mark Weaver, Environmental Center Coordinator for Hernando County schools, the center is expecting to work with more than 3,000 students during its first school year.
The Coastal Rivers Basin Board contributed $780,000 toward the construction of the center. Along with funding, the District provided a no-cost lease of the 20-acre property for the center, which is located on the District's Weekiwachee Preserve along the Weeki Wachee River.
The school district coordinated the construction and will operate and maintain the center. Water management district staff assisted the school district personnel in developing the curriculum.