Animal Assistance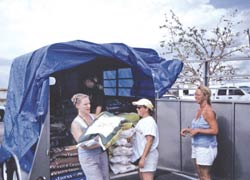 Some people panic when they hear disaster is heading their way; others mobilize and see what they can do to help. When Leigh Rogers, a regulation processing specialist at the District's Sarasota Service Office, heard that Hurricane Charley was going to hit Florida's west coast, she began looking for ways she could lend a hand.
"I have always been interested in volunteer work," said Rogers, who first looked into volunteering for the District's Emergency Operations Center (EOC).
The District's EOC operates out of Brooksville and already has staff designated to work it.
"One of my contacts at Manatee County made a few phone calls and got me signed up for their Disaster Animal Response Team (D.A.R.T.)," said Rogers.
The Manatee County D.A.R.T. was activated Sunday, August 15. Rogers and the other volunteers met in Bradenton and traveled to Punta Gorda where they worked alongside Charlotte County staff, Humane Society workers and military personnel near the Charlotte County Sheriff's Office.
D.A.R.T. volunteers completed various tasks, including caring for and transporting animals found in the disaster areas, feeding and watering stray farm animals that were penned up in nearby baseball fields, and delivering pet food to some of the mobile home parks in the area.
"It was overwhelming to see firsthand Charley's destruction of the mobile home parks," said Rogers. "The pictures on television are nothing compared to walking amongst the destruction."
Animal control officers and residents who found animals wandering around brought them to the relief area. That's where the animals were examined by a veterinarian and temporarily housed in cages. D.A.R.T. volunteers handled the paperwork for each animal, photographed each animal and took care of them until they were transported to an animal shelter. Larger animals like cows, horses and goats are being cared for at volunteers' barns or at area farms that were not damaged by the hurricane.
"A neat thing happened when we were organizing the donated bags of animal feed. Three Buddhist monks drove in to thank us and give us a blessing," said Rogers. "As soon as they were finished with their blessing, two large trucks from North Carolina pulled up completely filled with bags and cans of animal food."
The photographs the D.A.R.T. volunteers took of each animal have been placed on a Web site so owners can search for their missing pets. If an animal is not claimed within 90 days, it will be put up for adoption.
"There were two goats, one male we named Billy and one female, penned up in a baseball field the first day we arrived at the emergency aid center," said Rogers. "We wanted to take them home with us if they were not claimed, but I believe that the monks will probably receive them as an addition to their goat sanctuary."
While volunteering for D.A.R.T was hard work, Rogers says she didn't mind giving up a few weekends. "The most rewarding part of being involved in this volunteer activity is seeing the unity. So many people have come together to help those they've never even met. It's wonderful to be a part of that."
"The experience reminded me that we should be thankful for the people and things that surround us because they may not be around tomorrow," said Rogers.