Statewide Tracker System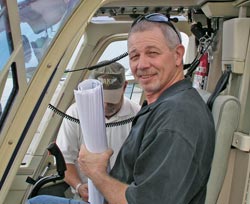 One of the reasons the state has been able to mobilize so efficiently to assist the victims of Hurricane Charley is the use of the State Emergency Operations Center (SEOC) Tracker System.
The system, which operates as a database, was implemented to coordinate needs and resources more efficiently. It was created after Hurricane Andrew struck south Florida in 1992. The system is managed and updated by the SEOC, a part of the Division of Emergency Management under the Department of Community Affairs.
"The database is accessed via the SEOC Web site and specific links," said Dale Ravencraft, District emergency coordinating officer.
"Any Florida county or water management district with Internet access and a current Web browser is granted access to the listed databases. This allows county officials to track requests, update reports and stay on top of new developments and vital statistics during emergency activation."
The District is a member of the State Emergency Response Team (SERT) and our Emergency Operations Center (EOC) coordinates activities through the SEOC and the Tracker System. Requests for assistance are received by the EOC via the Tracker System or by a direct phone call from the SEOC. Resources are then located, if possible, and deployed by the EOC. This avoids the duplication of two or more agencies trying to fill the same request. It also simplifies tracking the costs related to state and federal reimbursement and provides a summary of all actions for analysis after the event.
Ravencraft says one reason District staff has been so successful in response and recovery efforts is annual training. "The Operations Department/EOC staff completed emergency preparedness training with the SERT in Brooksville just three months ago," said Ravencraft.
District staff trained with the Director of Hurricane Planning, Patrick Odom, his staff and the National Guard.