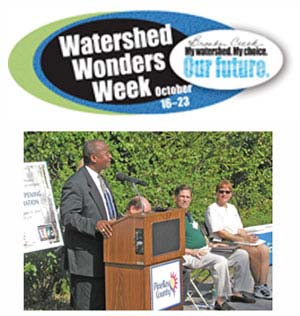 Watson Haynes II, Governing Board chair, and Ronnie Duncan, Governing Board member, were on hand to celebrate the Brooker Creek Preserve Environmental Education Center grand opening.
The $1.4 million center is equipped with an auditorium that seats 250 people, three fully equipped classroom/laboratories, an exhibit gallery with hands-on displays, and a system of boardwalks and trails that will provide wilderness experiences to an estimated 175,000 visitors annually.
Haynes and Duncan also co-chair the District's Pinellas-Anclote River Basin Board, which helped fund the center. Funding is divided as follows: Pinellas County — $1.2 million, Pinellas-Anclote River Basin — $200,000.
The Brooker Creek watershed is located in northeastern Pinellas County and northwestern Hillsborough County.