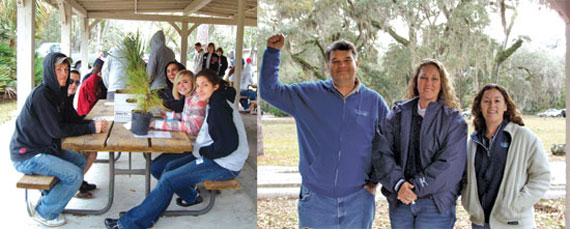 Left: Competitors in the Nature Coast Envirothon. Right: Pictured from left: Clay Black, senior professional engineer; Robin Coburn, staff engineer; and Michelle Dachsteiner, environmental scientist, were among the District staff that volunteered at this year's Envirothon.
Each year high school students from Citrus, Hernando, Pasco and Sumter counties compete in a battle of the brains. The contest, known as Envirothon, is organized by Canon, with $2,500 in scholarship money at stake.
During the Envirothon, teams of students rotate through five stations focusing on aquatics, forestry, wildlife, soils and a current events topic. Study materials for each topic are provided up to three months in advance of the competition. This year there were 70 five-person teams at the Nature Coast Envirothon. The teams spent approximately 40 minutes at each station receiving instructions, taking a written test and completing a hands-on exercise.
The Nature Coast Envirothon is organized by volunteers from local government agencies, school districts and the private sector throughout Citrus, Hernando, Pasco and Sumter counties. The competition is held in each county on a rotating basis.
The test questions, displays and materials are provided by several agencies, including the District, Florida Fish and Wildlife Conservation Commission, USDA Natural Resources Conservation Services, Florida Department of Agriculture's Division of Forestry and the Hernando County Planning Department.
Clay Black, a senior professional engineer in the District's Brooksville Regulation Department, has been involved with this event for 11 years. Black says the main reason he and his coworkers like volunteering for the Envirothon is meeting the kids.
"Many of them are extremely bright and you can tell that they will become successful adults," said Black. "The Envirothon gives us a chance to promote the District's mission to this next generation of leaders."
Each year Black develops a new test for the competition.
"He is the only participant that does not have the same subject every year," said Carolyn Pina, District staff engineer, who has been volunteering for the event for three years.
Pina is one of the "regulars" who volunteer for the event with Black. Other regulars include three-year volunteer veteran Robin Coburn, staff engineer; and six-year volunteer veteran Kim Dymond, environmental scientist. Several other staff members have also worked the event when one of the group couldn't make it.
"I'm fortunate to have good coworkers to help out," said Black. "Our director and managers have always supported the Envirothon, and we are thankful that they allow us to participate."