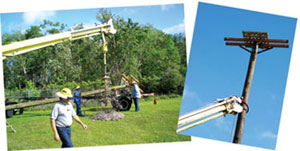 A homeless osprey may soon be living "the high life," thanks to an observant District employee and Tampa Electric.
William Copeland, a senior environmental scientist in the Tampa Regulation Department, noticed an osprey trying to build a nest on top of an active power pole that serves the facilities building at the District's Tampa Service Office.
"I originally asked Brant Henningsen with the District's Surface Water Improvement and Management Program where I could get a pole, thinking that his group had installed them before and our Operations Department could install one here," said Copeland.
Henningsen suggested he call Tampa Electric, so Copeland contacted Stanley M. Kroh, manager of land and water programs.
"I've known Stan since he worked for the Environmental Protection Commission of Hillsborough County more than ten years ago," said Copeland. "He was very receptive to the idea, in part because of the history of cooperation between the District and Tampa Electric."
Kroh made arrangements with TECO's Energy Delivery Department to have the new pole placed near the active power pole within two weeks.
A Tampa Electric crew installed the pole in April. District staff are keeping an eye on the new pole to see if the osprey will begin making a nest there.