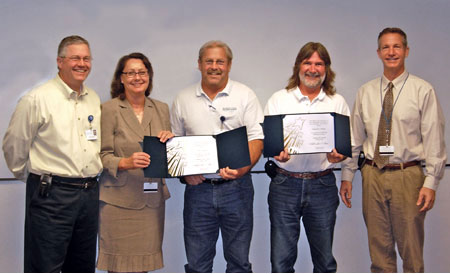 Kurt Durham and Mitch Malone, senior field technicians, each received the District's Shining Star award. Richard Owen, deputy executive director; Cheryl Johnson, field technician supervisor; and Ross Morton, Sarasota regulation director, are also pictured.
The District's Employee Committee recently surprised two of its own members, Kurt Durham and Mitch Malone, by presenting each with a Shining Star award for March.
While Durham has been working for the District for more than 20 years and Malone for 17 years, their volunteer efforts began about five years ago.
The aftermath of Hurricane Charley resulted in Durham and Malone spending a week in Arcadia handing out supplies and water. After the week was over, their assignment ended but the overwhelming collection of supplies from District staff didn't. As a result, Durham and Malone continued to work with the Arcadia Center for the Needy by collecting items from the District and delivering them to the center.
Although the recognition program generally awards only one person each month, Durham and Malone always work together in their volunteer efforts. Cheryl Johnson, District field supervisor, nominated them both for the Shining Star award.
"You couldn't nominate just one and not the other," said Johnson. "They work so well together and have shared much success in their volunteer efforts."
Durham and Malone also work closely with the DeSoto County Animal Shelter by regularly hosting fundraisers at the Sarasota Service Office to collect donations of leashes, collars, toys and food for the animals. They also assisted in providing temporary shelter for the animals after the hurricane.
Currently, Durham and Malone hold annual food drives before Thanksgiving and Christmas for the residents of Arcadia. In addition, they continue to support the DeSoto County Animal Shelter as needed, and they hold special fundraising events to help assist other animal aid organizations.