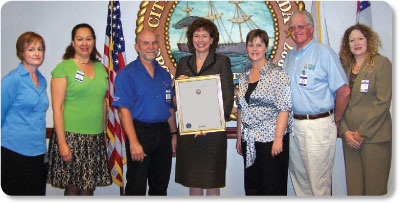 From left: Andrea Roshaven, Tampa Water Department; Maritza Rovira-Forino, Governing Board member; Paul Rauch, Wildrose Lawncare Inc. co-owner; Pam Iorio, Tampa mayor; Christine Collins, Wildrose Lawncare Inc. co-owner; Hugh Gramling, Governing Board member; and April Genter, Charles Rutenberg Realty Inc.

The wind and rain didn't deter enthusiastic gardeners from attending the third annual Florida Yard Fandango in March.
This year the gardening event spanned two days. The first day of the event featured Florida-friendly landscaping classes that approximately 110 people attended. The classes are part of a science-based program of the University of Florida/Institute of Food & Agricultural Sciences' Florida Yards & Neighborhoods (FYN) program.
In addition to the workshops, the first day of the Florida Yard Fandango also featured a keynote address from Monica Brandes, author of "Ease of Florida Gardening." Both days featured a vendor fair with plants and other garden-related items for sale. About 2,500 people visited the vendor fair.
Governor Charlie Crist and Tampa Mayor Pam Iorio both made Florida-friendly landscaping proclamations in conjunction with the Florida Yard Fandango. Crist signed the state's first-ever proclamation declaring March as Florida-Friendly Landscaping Month. The proclamation recognizes Florida-friendly landscaping as an integral part of Florida's "Green Initiative."
Iorio proclaimed March 8, the first day of the event, as Florida-Friendly Landscaping Day.
The goal of the Florida Yard Fandango, coordinated by Wildrose Lawncare, is to promote Florida-friendly landscaping and lawn maintenance because it is beautiful and saves water, time and energy.
To learn more about Florida-friendly landscaping, visit the District's web site at WaterMatters.org.