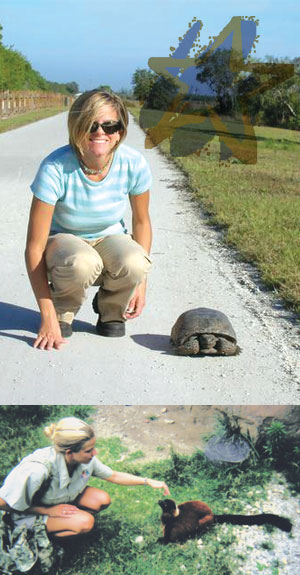 Tasha Bowers, environmental scientist for the District's Sarasota Service Office, received the Shining Star award for April for her volunteer efforts with animal rescue organizations.
Bowers began collecting animal supplies for the humane societies in Sarasota and Manatee counties last year in honor of "Prevent Cruelty to Animals" month. Thanks to the support of District staff, she's been able to continue collecting items and monetary donations for the societies on a routine basis.
Bowers began caring for animals at a young age. She grew up with many different types of animals ranging from dogs, cats and birds to turtles, crabs, crawfish and newts. Aside from her own animals, she also cared for others by volunteering at animal shelters and zoos throughout high school and college. To this day, she still has a variety of pets including a dog, cat, frog and hermit crabs.
Although Bowers just started working at the District two years ago, it was only natural for her to involve her colleagues with local animal rescue organizations. Bowers was nominated by fellow District environmental scientist Dave Jenkins.
"Tasha is always helping others in and out of the office," said Jenkins. "For a little person, she has a very big heart."
Bowers also coordinates donations to several different "no-kill" animal shelters each month. So far, she has helped The Wildlife Center of Venice and Puffy Paws Kitty Haven in Englewood. She is currently working with the Little Angels Rescue in Arcadia, which is a dog rescue organization.