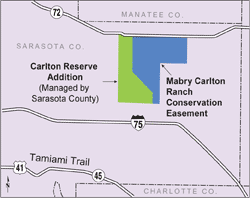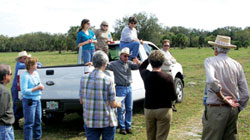 Ken Harrison, Carlton family friend and member of the Peace River Basin Board, led guests on a tour to highlight the property's diverse habitats.
More than 12,000 acres of environmentally sensitive lands in Sarasota County that have been part of a family ranch since 1947 will remain natural, thanks to an agreement among the family, the District and Sarasota County.
In December 2007, the District and Sarasota County purchased a conservation easement over 7,600 acres from the Mabry Carlton Ranch, Inc. As part of the easement, the owners will not develop the property and will continue to manage the ranch to maintain its ecological value. This includes activities such as prescribed burning, exotic species control and the use of best management practices to protect water quality. The District will conduct annual inspections on the newly acquired conservation easement.
"The Carlton Ranch acquisition provides an important ecological addition to the assembled core conservation area in the southern reaches of the District," said Eric Sutton, land resources assistant director. "It demonstrates that ranch land owners with a history of exemplary stewardship can play a vital role in achieving the vision of permanently protecting the natural resources of Florida."
The agreement also consisted of the District and Sarasota County purchasing full title to the more than 4,400 acres of the adjacent Myakkahatchee Creek property. In December 1998, the District had purchased a conservation easement over the Myakkahatchee Creek property. Sarasota County will be the lead land manager for this property.
The total acquisition, which cost $51 million, was a partnership between the District's conservation land acquisition program that utilizes Florida Forever funds and Sarasota County's Environmentally Sensitive Lands Program.
The Carltons recently held a celebration picnic to thank those who worked to make the agreement happen. Representatives from the District's Land Resources Department were among those who attended. As part of the celebration, Ken Harrison, a longtime friend and ranching associate of the Carlton family and a member of the District's Peace River Basin Board, led attendees on a tour of the property to highlight the diverse habitats that will be preserved.