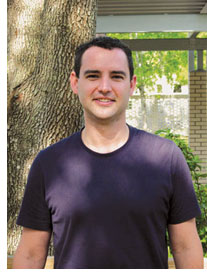 Justin Torre is a shining example of how hard work, loyalty and patience can pay dividends. He started with the District in 2000 as an administrative officer in the Information Resources Department. It was a convenient job while he studied for his bachelor's degree in management information systems at the University of South Florida. After only a couple of months, however, Torre got his first break and began working in IT as a student intern.
These days Torre is a senior business application developer, which for the layman means he writes the web applications that are used by the regulatory department. His current project is the Water Management Information System (WMIS). WMIS is an interface system for use by staff and the public that will provide for the entry, maintenance, analysis and presentation of the District's scientific and regulatory data. Torre said this is the biggest project he's worked on since he has been with the District.
One of the best things about working for the District is the opportunity to be involved in a diversity of activities, according to Torre. "The job is constantly evolving and there's always something new to focus on," said Torre. "It's always given me opportunities to grow," he said of his time with the District.
Apart from an interest in information management, Torre's other passions include travel and golf. Although Tampa born and bred, he said he's seen most of the U.S. but still has some of the northeast to explore — the area north of New York in particular.
One of his favorite travel memories is from his trip to Yankee Stadium to watch a baseball game. The Rays played the Yankees, which he found amusing that he went all the way to New York to watch his home team play.
Beyond the States, Torre is interested in traveling through Asia. "Maybe Japan," he mused. It's the different experience and culture that appeal to him most. He wants to go to Tokyo because it's one of the biggest cities in the world and he figures there will be plenty to see and do.
Torre's interest in Asia doesn't stop at travel. He is actually planning to take some cooking classes in the near future to learn how to prepare Asian cuisine.
Golf is something Torre also does for the challenge. He has a six handicap and his favorite course is the TPC Sawgrass at Ponte Vedra Beach.
"I'd like to play more golf in the future," Torre said. "That was once a real passion of mine, but time is a factor."
Maybe he can get his handicap down to scratch by his thirtieth birthday? "Yeah, maybe by my thirty-fifth," he said. Torre turns the Big Three-Oh this July.