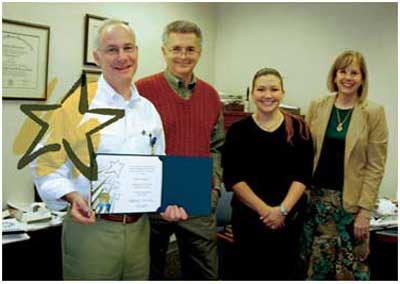 Jack Pepper, deputy general counsel, is presented with the District's first Shining Star award by Bill Bilenky, general counsel; Tammy Antoine, water conservation analyst and Employee Committee chair; and Pamela Baldwin, senior human resources generalist.
Jack Pepper, a District deputy general counsel, gleamed as the Employee Committee and fellow coworkers presented him with the first Shining Star award, a new recognition program recently developed by the Employee Committee.
The Shining Star recognition program acknowledges employees who go above and beyond their duties at the District by volunteering personal time or donating money to benefit their community. This recognition program is a way for the District to say thank you for their commitment and for making the community a brighter place.
Pepper is active in several different community organizations including Kiwanis, where he previously served as the Human and Spiritual Values committee chair and is currently a member. This committee reaches out to the community through acts of kindness such as visiting nursing homes on a monthly basis to talk with patients and delivering food to needy families during the holidays.
Pepper was nominated by his supervisor, Bill Bilenky, the District's general counsel.
"Jack is very humble about the time he devotes to various community organizations," said Bilenky. "He is deserving of an award that recognizes his commitment to his community."
Busy with his family of four, Pepper also finds time to volunteer with the Hernando County Pop Warner Youth Football Organization and serve as a Eucharistic minister and lay reader at his local parish, St. John's Episcopal Church. He is also a member of the Citrus-Hernando Inn of Court, a mentoring organization for local legal professionals, and the Hernando County Bar Association.
"The first Shining Star recipient truly reflects why we instituted this award," said Pamela Baldwin, senior human resources generalist. "Employees who are out there making a difference in their communities should be recognized for their selflessness and concern."
Shining Star award nominations are submitted by coworkers and decided by an anonymous vote by the Employee Committee. A Shining Star award will be presented each month.
For more information on nominating a fellow District employee for the Shining Star recognition program, visit the Employee Committee web page on the Waternet.