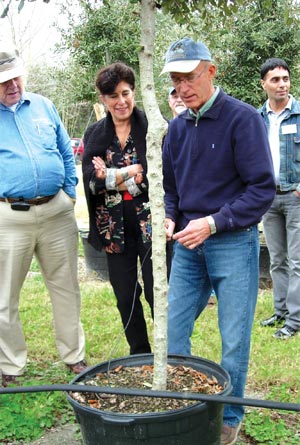 Several members of the District's Basin Boards and District staff were able to get a closer look at some innovative, water-conserving farming techniques when they visited two area commercial nurseries.
The tour, which was organized by the Florida Nurserymen, Growers and Landscape Association (FNGLA), featured the Riverview Flower Farm's Wimauma location and the Sun City Tree Farm, as well as a tour of the University of Florida's Gulf Coast Research and Education Center.
Riverview Flower Farm is a highly automated farm that provides plants, mainly pentas and varieties of lantana, to all The Home Depot stores from Tallahassee to Key West.
Most nurseries do not have automated production lines that can pot 3,600 plants per hour like the Riverview Flower Farm. In addition to using advanced potting methods, it also uses advanced techniques to conserve water, which many smaller growers could incorporate as well.
Basin Board members learned about one of the techniques used to prolong shelf life by preventing the plants from "losing" water. The farm uses plant starch in the soil, which causes the plant to hold the water longer and cuts water consumption by 60 percent.
Another way the farm conserves water and minimizes runoff is by keeping the potted plants in covered greenhouses along a drip tape irrigation system. The plants are irrigated with the right amount of water and fertilizer, and very little water is lost.
The second nursery visited on the tour was Sun City Tree Farm, which is owned and operated by Jean C. Tort, a member of the Alafia River Basin Board. The tree farm supplies shade trees and other landscaping trees to professional landscapers.
Each tree is in a container and on a cable system. Tort showed his fellow Board members how easy it is to operate the drip irrigation system connected to each tree. The system is similar to the drip tape irrigation system at the Riverview Flower Farm because it provides each tree with the appropriate amount of water and slow-release fertilizers.
"We check each water emitter for leaks and other potential problems each week," said Tort. "We don't have a problem with the emitters getting stopped up because we have good water quality."
Among the 25 to 30 varieties of trees grown at the Sun City Tree Farm, the main varieties include oak and European olive trees.
"I got our first olive trees from California about five or six years ago and kind of started growing them as a hobby," said Tort. "I wanted to see how they would do in Florida."
During the past few years, many commercial nurseries needed to find an alternative to citrus trees because of the spread of citrus canker. When Tort discovered olive trees are drought-friendly and do well in any climate, he found his new crop. In fact, the biggest olive trees on his farm are going to be shipped to the Bahamas for use in a large landscaping project. While the trees grow well in Florida's warm climate, they do not produce olives because there is not enough cold weather to promote blooming and fruit setting.
The tour wrapped up where it started — at the Gulf Coast Research and Education Center. This is where University of Florida Institute of Food and Agricultural Sciences' (IFAS) scientists conduct research concerning forestry conservation, geomatics, landscape and ornamentals, small fruits, vegetables and wildlife ecology. Some of the projects involve determining how much water different plants need during the establishment period. This research helps the agricultural community conserve water without jeopardizing the health of its crops.
"The drought of 2000 had a great economic impact on the industry," said Hugh Gramling, Tampa Bay Wholesale Growers executive director. "That's when the nursery industry became more involved with IFAS in determining how much water plants need. The industry promised the District's Governing Board it would follow water restrictions that were based on science."
Gramling is the Hillsborough River Basin Board secretary and a member of the FNGLA. He organized the tour for his fellow Basin Board members and District staff.
Attending the tour, in addition to Gramling and Tort, were Jim Selvey, Alafia River Basin Board vice chair; Cheryl Johnson, Alafia River Basin Board member; Paul "Jack" Bispham, Manasota Basin Board member; Patricia Crisman, Peace River Basin Board member; Albert "Bo" Rooks, Withlacoochee River Basin Board member; and Patricia Nathe, Withlacoochee River Basin Board member.