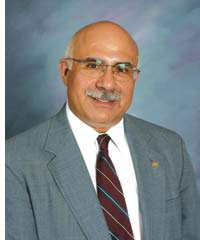 Eugene Schiller, the District's deputy executive director of the Division of Management Services, has been selected to serve a two-year term on the Department of the Interior's National Geospatial Advisory Committee.
Schiller was appointed by U.S. Secretary of the Interior Dirk Kempthorne to represent regional government.
"I am honored to be selected to serve on this committee," said Schiller. "The District has been recognized nationally for its efforts in providing and integrating our geographic information systems information with our local governments, other water management districts, the state and the federal government. Through this committee, I believe our unique approach to sharing and developing information partnerships will serve as a role model for others to follow."
Schiller is among 28 individuals from a broad range of public and private organizations across the country selected to serve on the committee, which is expected to meet three or four times a year. Committee members were chosen by a panel from approximately 110 qualified nominees.
The committee's main goal is to provide "ground level" advice on the development of the National Spatial Data Infrastructure, which promotes sharing of geospatial data throughout all levels of government, the private and nonprofit sectors and the academic community.
"Geospatial information and technology helps many programs ranging from wildlife conservation to weather prediction to national security," said Kempthorne. "This committee will help provide advice and perspectives from a broad range of partner organizations as we continue to develop new ways to utilize geospatial information for the benefit of the public."
Geospatial information refers to information integrated from multiple forms of data about precise locations on the earth's surface. Sources of data include photographic, infrared and multispectral images and geographic, hydrographic and geomagnetic data. It also includes environmental, political and cultural information that use common interoperable standards. Geospatial information may be used for printed or digitalized maps, charts and publications or in digital simulations and modeling databases.
Schiller has served as the District's deputy executive director of the Division of Management Services since 1992. As the District's chief operating officer, he supervises the Information Systems, Finance, General Services, Human Resources and Risk Management departments and oversees the development of the annual budget and multi-year capital improvement plans.
Schiller is a corporate member of the International City/County Management Association, with more than 30 years of recognized service. He serves on the Executive Committee of the National Council for Public-Private Partnerships and is also a member of the Government Finance Officers Association, the American Society for Public Administration and the Florida Academy of Professional Mediators, Inc.