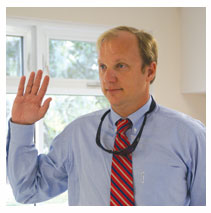 Albert G. Joerger took his oath of office to serve on the Southwest Florida Water Management District's Governing Board during the February Board meeting.
Joerger was appointed by Gov. Charlie Crist to a newly created seat. The Governing Board was previously made up of 11 seats. Last year the state Legislature added two new seats for a total of 13. Joerger's term ends March 1, 2011.
The Sarasota resident is the founder and president of the Sarasota Conservation Foundation, which works with landowners and local governments to protect and preserve Sarasota County's bays, beaches and barrier islands for future generations. The foundation holds conservation easements and owns nature preserves, educates on responsible land stewardship, and collaborates with individuals, organizations and communities.
Joerger feels his extensive background in acquiring lands for conservation as well as his work with public/private partnerships will give him a wealth of experience to draw from when making policy decisions on the Governing Board.
He will also assume responsibility as co-chair ex officio of the District's Manasota Basin Board, which represents Manatee and Sarasota counties.