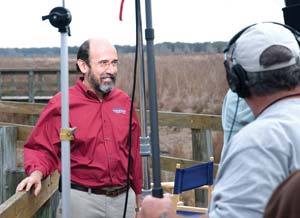 Alberto Martinez, Tampa Regulation Department environmental manager, appears in the District's Spanish language radio and television advertisements concerning water conservation and the drought.
Drought efforts continue to remain a priority as the District anticipates a drier than normal spring.
Despite recent rainfall, the District's 24-month rainfall deficit is 20.9 inches below normal. As a result, river flows, groundwater levels and other hydrologic indicators are far below where they should be at this time of year.
"Although rain events in January and February have certainly been welcome, drought conditions are expected to continue for many months to come," said Lois Sorenson, District demand management coordinator. "Until a productive summer rainy season provides real relief, the area remains at risk for wildfires and stress on the public water systems."
The District has taken several emergency actions to meet the region's water supply needs during the current drought.
Recently, the District declared a water shortage emergency, which authorized the Englewood Water District to help the Peace River/Manasota Regional Water Supply Authority by providing water to Charlotte County Utilities.
The executive order was signed by District Executive Director David Moore on February 7 and will allow the authority to reduce the amount of water it supplies to the county, extending its overall water supplies. The order is scheduled to expire on May 1, 2008, unless it is rescinded or extended by the District's Governing Board or executive director.
Aside from regulation, the District has also continued to raise a significant amount of public awareness about the drought.
A multimedia advertising campaign to promote conservation includes billboards, newspapers, magazines, radio and television public service announcements.
The "Reduce Your Use" campaign stresses the seriousness of the drought, provides tips on efficient irrigation and promotes the use of Florida-friendly landscaping. The advertising is provided in both English and Spanish. District Environmental Manager Alberto Martinez is featured in the Spanish language radio and television ads. The campaign includes electronic billboards for the first time, which are located in Hillsborough and Pinellas counties.
In addition to advertising, the District is continuing its grass-roots effort by partnering with more than 60 counties and municipalities to post approximately 1,600 conservation signs throughout their regions to remind people that we are in a drought and they need to conserve water.
District staff is also continuing to reach out to homeowners, property associations, churches, community groups and organizations to offer drought materials and speaker presentations.
For more information about the drought, how you can help or to request a speaker, please visit the District's web site at WaterMatters.org/Conservation.