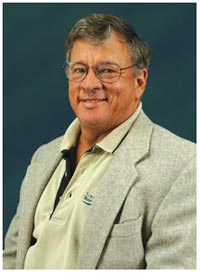 Name: Terry England
Basin Board: Pinellas–Anclote River
Term: First appointed Aug. 4, 1999; currently in his third term, which expires March 1, 2009
Occupation: General contractor, commercial and industrial projects
Town of residence: Indian Rocks Beach
Hometown: Avon Park, FL
Reason you applied to be a Basin Board member: I got involved with a program through the Chamber of Commerce in 1992 called the "Year of the Gulf," so I became familiar with water-related topics. Also, I had experience with retention ponds and other issues through my business. Because of this, former Representatives Mary Brennan (D–Pinellas Park) and Lesley Waters (R-Pinellas Park) and former Senator Jack Latvala (R–Palm Harbor) urged me to submit an application to then Governor Jeb Bush.
Most important water resource issue: I believe the current "hot" issue is sustainable water supply, using several different alternative water supply systems so it can withstand droughts.
Favorite restaurant in the District: Marlin Darlin Grill in Belleair and Brian's Place in Hernando Beach
Other boards, organizations or clubs you belong to: St. Petersburg Underwater Club, Clearwater/ St. Petersburg Ski and Sports Club, Pinellas Park/Gateway Chamber Board of Directors; in January I received the Outstanding Business Man Award from the Pinellas Park/Gateway Chamber of Commerce
Hobbies or sports: Scuba diving, fishing, boarding and snow skiing
Motto to live by: The Golden Rule (Do unto others as you would have them do unto you.)
Favorite singer or band: B.B. King — that guy's got some staying power.
Currently reading: "Words That Work" by F. Luntz
What did you want to be when you grew up: An architect
Your most influential role model: Shields E. Clark, II, a member of the Four Rivers Board and a charter member of the Pinellas-Anclote River Basin Board
Favorite childhood memory: Camping on Egmont Key
Favorite food: Cajun