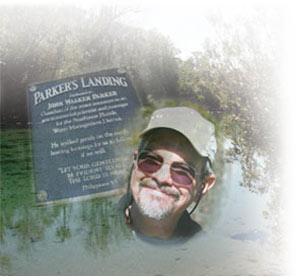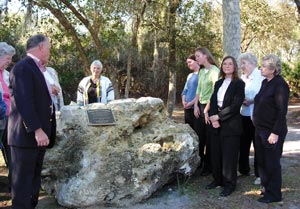 David Moore, executive director, reads the plaque honoring John Parker as his family looks on.
A canoe launch at the Springs Coast Environmental Education Center on the Weeki Wachee River bears the name and memory of John Parker, a District employee who died in a car accident last spring.
"Generations of school children will learn about John Parker's life as they visit here and learn to become good stewards of the environment," said Judy Whitehead, Governing Board chair.
A bronze plaque on a boulder along the river designates the spot as "Parker's Landing." The canoe launch is a fitting memorial for Parker, who enjoyed canoeing with his family. This location along the river was one of their favorite destinations.
"This spot represents where his work at the District merges with his love for education and our family memories," said Leslie Parker, John's wife.
District staff shared stories about Parker during the February ceremony and in a memory book that was presented to his family.
David Moore, District executive director, spoke about Parker's passion for science and his ability to share information with others.
"He had a knack for taking complicated issues and boiling them down to something simple," said Moore. "He was often out in the community doing speaking engagements and educating the public about our water resources."
In addition to educating the public, Parker was also known for explaining issues to fellow employees and the District's Board members. In fact, the former executive director and Governing Board sent him a letter complimenting him on a presentation he did on springs.
Parker began working at the District in Sept. 1985 as a hydrologist. He was promoted several times, eventually serving as the Brooksville Regulation Department's water use permitting manager.
His enthusiasm for geology and the environment carried through his life.
"Even as a little girl I knew my dad worked with ground water," said Jessica Nugent, Parker's daughter. "His enthusiasm for what he did is responsible for my love of science."
Nugent majored in molecular biology at Stetson University and spent two summers as a college intern at the District.
"Those were great summers for me because I learned a lot of interesting things and was able to share the experience with my dad," said Nugent. "We had lunch together in the cafeteria and talked about science and water resources."
Brooksville Regulation Department Environmental Manager Len Bartos knew Parker on a personal level even before their cubicles were side by side. The two met at church and their children grew up together.
"I miss Jack," said Bartos. "This rock is a great tribute, but the things that are even more important are what he etched in our hearts and minds."
Etched on the plaque that bears Parker's name is a passage from the Bible, which was a lesson he lived by: "Let your gentleness be evident to all. The Lord is near" (Philippians 4:5 NIV).
"He always taught us to walk softly, minimizing our impact on this earth," said Nugent. "That lesson will stick with me and live on through my children."