Known for being a role model and a leader at the District, Roberta Starks has now received recognition from Hillsborough Community College (HCC).
Starks was recognized at the college's alumni award ceremony in December. The event, which was the first of its kind at HCC, honored 40 alumni in celebration of the college's 40th anniversary.
"The task for selecting only 40 remarkable alumni was a difficult one for our committee," said Gwendolyn Stephenson, Ph.D., HCC president.
Starks earned an associate of arts degree from HCC in 1989. She graduated with honors and went on to study botany at the University of South Florida where she obtained a bachelor of science degree.
But the remarkable part of her story begins before she entered college. She was unable to finish high school because she became a young mother and needed to find employment to support her son. Eventually she took the high school graduation equivalency exam, moved to Florida and enrolled at HCC.
Starks was a featured speaker at the commencement ceremony because she was an excellent example of an older, self-reliant student who was also a single parent who succeeded.
"I think it shows you can overcome anything when you have the drive to make a better life for yourself and your family," said Starks. "Thankfully I had a lot of support from HCC staff, my family and my husband Michael."
Starks started her career at the District in 1992 as an assistant field technician. Through the years she has worked her way up to be the District's water quality monitoring program manager, overseeing 15 employees.
"Throughout my career at the District, my coworkers and superiors have been very important, positive influences in my life," said Starks. "Without their support and mentorship, I would not be at this point in my life or career."
In her role as manager, she also provides HCC students and recent graduates the opportunity to work in the natural science field at the District. Through their work as students or temporary staff, they are able to gain valuable field and technical experience. Starks works closely with these employees and provides hands-on mentoring to help them establish career goals.
"Over the summer, a student intern was debating about returning to school because of family pressures," said Eric DeHaven, the District's Resource Data & Restoration director. "Roberta counseled the student about the value of her education and how an associate degree will help her expand her opportunities."
"The District takes pride in the fact that two individuals associated with the District were recognized by HCC for their achievements," said Elaine Kuligofski, District Human Resources director. "This is just one example of the quality people we look to hire and serve on our advisory committees and Boards."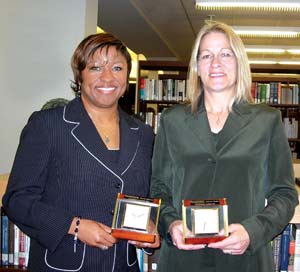 Cheryl Johnson (left), Alafia River Basin Board member, and Roberta Starks, water quality monitoring program manager, were both recognized as remarkable alumni during Hillsborough Community College's celebration of 40 alumni during the college's 40th anniversary (Johnson story follows).