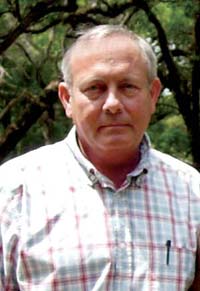 Audubon of Florida honored a District employee this fall for his role in saving the land that makes Florida a special place to live, work, visit and explore.
Henry Dean, Audubon board member and former executive director of the St. Johns River and South Florida water management districts, presented the Florida Audubon Special Places Award to Fritz Musselmann, land resources director, during Audubon's Annual Assembly.
"In the face of decades of explosive growth, he wrangled every dime and partnership available to make sure our springs, lakes, rivers, swamps and estuaries are protected for this and future generations," said Dean.
Musselmann was one of several individuals recognized for their contributions to the environment, including state Senator Burt Saunders, who was presented with the Champion of the Everglades Award, and Deputy Director of Cabinet Affairs Diana Sawaya-Crane, who received the Teddy Roosevelt Award.
"I was honored to be included in the same company as the senator and the other individuals receiving awards," said Musselmann. "However, without the hard work and dedication of the Land Resources Department staff, this would not be possible."