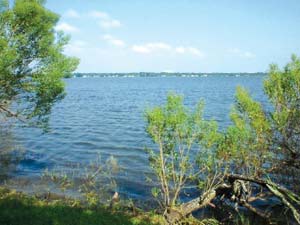 The North American Lake Management Society (NALMS) recently awarded the Southwest Florida and St. Johns River water management districts with the Technical Merit Award in the area of research for their work on minimum flows and levels (MFLs.)
NALMS is a professional organization that produces an international, peer-reviewed scientific journal, Lake and Reservoir Management, as well as a quarterly magazine, LakeLine.
The award was presented at the NALMS annual symposium, which was held in November in Orlando.
All five state water management districts are mandated by the Legislature to set MFLs for the state's water bodies. A minimum flow or level is the limit at which further water withdrawals will cause significant harm to the water resources and environment. MFLs become a part of state law and have the effect of limiting permitted withdrawals for water supply, and because they have the authority of law, they are subject to legal challenges and considerable scientific scrutiny.
Collectively, the water management districts have set MFLs for more than 200 water bodies in the state. Staff has produced more than 200 technical reports, as well as several dozen papers in peer-reviewed journals.
The Southwest Florida and St. Johns River water management districts were nominated for this award because of the large volume of work and studies the two districts have completed that are related to MFLs.
"The award recognizes the District as a whole, which I think is the appropriate thing to do because the Ecologic Evaluation Section, the Hydrologic Section, our survey group and outside consultants all contributed to the work we've done over the past decade," said Marty Kelly, Ph.D., manager of the District's Ecologic Evaluation Section.
Work on MFLs has also spawned considerable research on a diverse range of topics including climatic cycles and habitat requirements of selected aquatic species such as fish, macroinvertebrates and manatees.