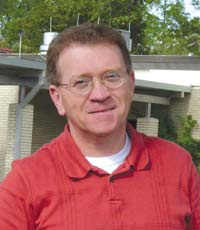 The Finance Department is welcoming the return of Alan Lynch, senior budget analyst, after seven years of military leave.
Lynch, who began working for the District in March 1994, went on military leave July 2000. He worked at MacDill Air Force Base in Tampa, supporting the U.S. Central Command (USCENTCOM). Lynch was in the Command, Control, Communications and Computers Directorate.
After the terrorist attacks on Sept. 11, 2001, Lynch's orders were extended for six years.
"It was very rewarding to work for and with some of the primary military leaders at USCENTCOM," said Lynch. "During part of the time, my focus was on training and equipping the Iraq and Afghanistan security forces and the restructuring of these countries."
During his time away from the District, Lynch was recognized by his leaders and his peers as the Greater Tampa Chamber of Commerce Military Citizen of the Year. Lynch was also recognized for volunteering and his involvement in military and community organizations.
However, Lynch says he missed the people back at the District.
Lynch will be working on the budget analysis for fiscal year 2009. He will also be the lead budget analyst for development of the Five-Year Capital Improvements Plan and the Five-Year Technology Plan.