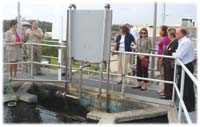 From left to right: Shannon Staub, Sarasota County commissioner; Judy Whitehead, Governing Board chair; Heidi McCree, Governing Board member; Maritza Rovira-Forino, Governing Board member; Dora Thomas, Manasota Basin Board member; and David Moore, District executive director, listen to a presentation about surface water treatment by Kevin Morris, PR/MRWSA facilities division director (second from left).
District representatives recently participated in a tour of the Peace River/Manasota Regional Water Supply Authority (PR/MRWSA) reservoir and facility expansion.
An additional 6-billion-gallon reservoir will be built at the RV Griffin Reserve as part of the PR/MRWSA expansion project. The project also includes expanding the existing treatment facility from 24 to 48 million gallons per day and constructing additional water transmission lines.
The PR/MRWSA provides drinking water to Charlotte, DeSoto and Sarasota counties.