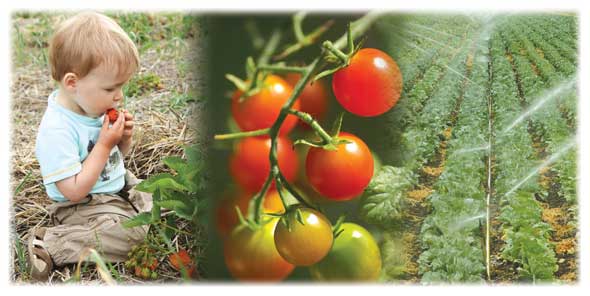 Agricultural permit holders can now utilize a new element of the District's Water Management Information System (WMIS).
The WMIS is being designed to centralize information from the District's well construction permitting, resource data, water use permitting and environmental resource permitting databases, making it easily accessible for both the staff and the public. Upon completion, the WMIS will increase the amount of information online, facilitate online permitting and processing, and streamline workflow.
Several online applications have been launched since January, and the latest is an online permitting system that will give agricultural small general water use permit (WUP) holders the opportunity to renew their permits online. Agricultural small general WUPs are permits with an annual average daily permitted quantity of less than 100,000 gallons per day.
All agricultural small general WUPs will be reviewed to see if they qualify for online renewal. The review process includes an evaluation of the current permit and geographic information to determine if there would be any significant changes to the current permit information online. Some of the criteria taken into consideration include outstanding compliance issues, changes in use, changes in ownership, tropical fish farms and livestock uses.
Permit holders who are eligible to renew online will receive a renewal package approximately three months before the permit's expiration date. The package will include an application form, prefilled with their permit information, and a cover letter with the web site address and an authorization code to access the online permitting system and submit their renewal.
"One of the goals of the WMIS is to reduce paperwork and make the permitting process less time-consuming, while improving service to the public," said Sommer Mercer, regulation systems manager. "We've seen these improvements when we made the enhanced well construction permit applications available online, and we believe the same will happen with agricultural small general water use permits."
For more information about renewing agricultural small general WUPs online, please contact Sommer Mercer, regulation systems manager, at 1-800-423-1476, ext. 4194, or Deanna Naugler, senior regulation systems analyst, at 1-800-423-1476, ext. 4312.
To access the WMIS applications (e-permits), visit the District's web site at WaterMatters.org/permits/.